Ground/work is free and open to the public, night and day. No tickets are required.
Kelly Akashi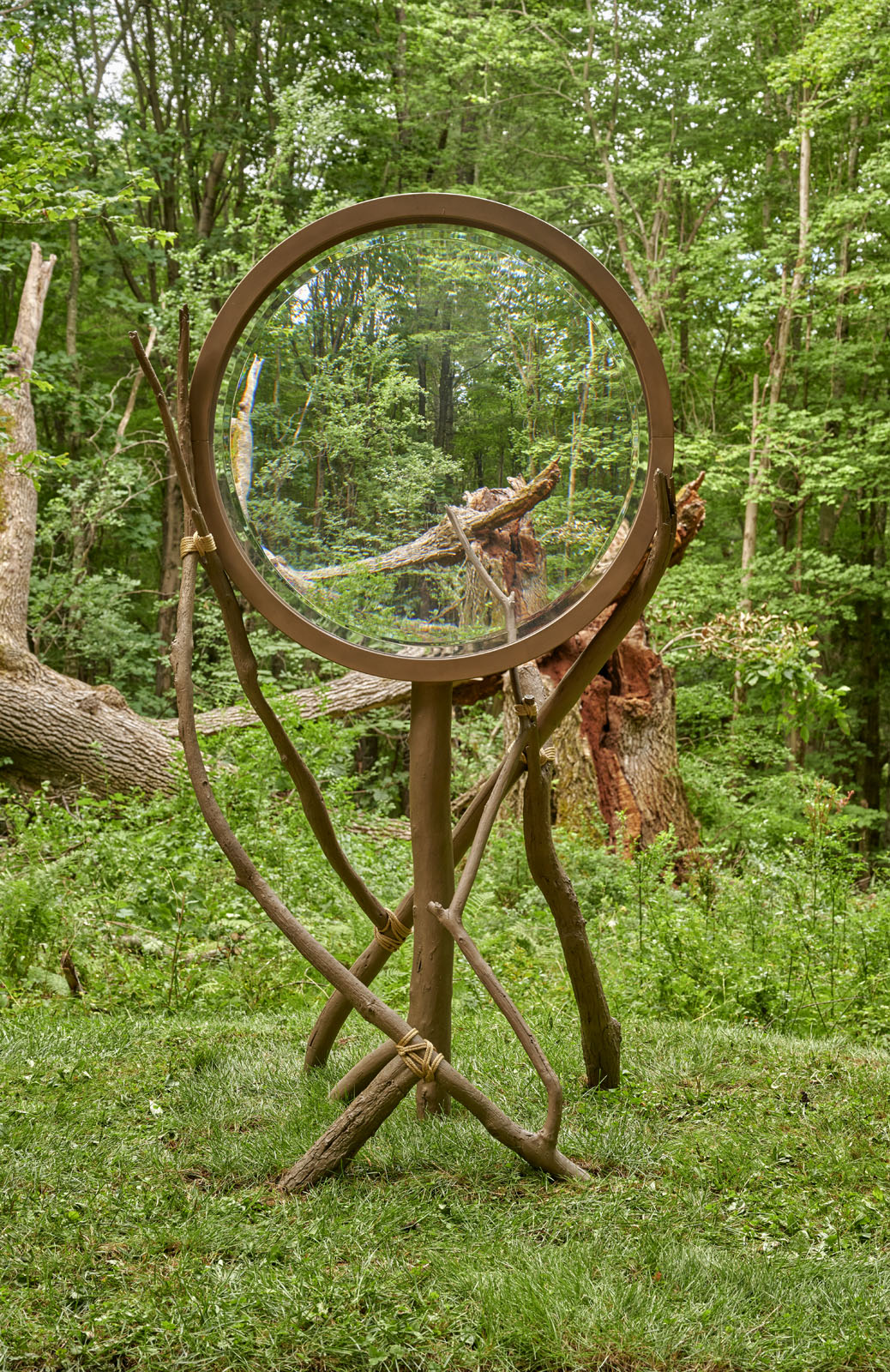 Kelly Akashi
b. Los Angeles, 1983; lives and works in Los Angeles
A Device to See the World Twice
2020
Optical acrylic, bronze, rope
Courtesy of the Artist, François Ghebaly Gallery, Los Angeles and Tanya Bonakdar Gallery, New York
Photo: Thomas Clark
Composed of a double-concave acrylic lens supported by several cast bronze branches, A Device to See the World Twice is an apparatus for viewing. The sculpture both condenses the landscape within its frame and allows visitors to see their surroundings twice: once through the lens and once around it. Inspired by the photographic process of fixing an image in a darkroom, Akashi often casts natural forms in bronze, halting their development and transforming them into relics of the original objects. Here, arrested in time, the bronze tree branches anchor the lens, while the forest around the object continues to evolve. At the same time, the lens focuses our attention on the present moment, highlighting the entropy of the natural world. Akashi decided to locate the work in one of the niches found throughout Stone Hill: a small clearing adjacent to the trail where a mature ash tree stood. A few months before the sculpture was installed, the tree suddenly collapsed, its rotten core giving way to create a spectacular ruin in place of its once vertical form. This chance event reinforces the themes of permanence and impermanence that guide Akashi's work and emphasizes the artist's interest in different modes of time and transformation. 
Listen to the artist talk about this work
Kelly Akashi (b. 1983, Los Angeles) trained as an analog photographer and brings a documentarian's instincts and curiosity to a practice that embraces a range of diverse materials and age-old processes. Her work is included in the permanent collections of the Los Angeles Museum of Contemporary Art; the Hammer Museum, Los Angeles; and the Sifang Museum, Nanjing, China, among others. New and recent solo exhibitions include presentations at the Aspen Art Museum (2020), Tanya Bonakdar Gallery (2020), Headlands Center for the Arts (2019), Carolyn Glasoe Bailey Foundation (2019), ARCH Athens (2019); François Ghebaly Gallery, Los Angeles (2019 and 2016); and SculptureCenter, New York (2017). Akashi lives and works in Los Angeles.