Ground/work is free and open to the public, night and day. No tickets are required.
Analia Saban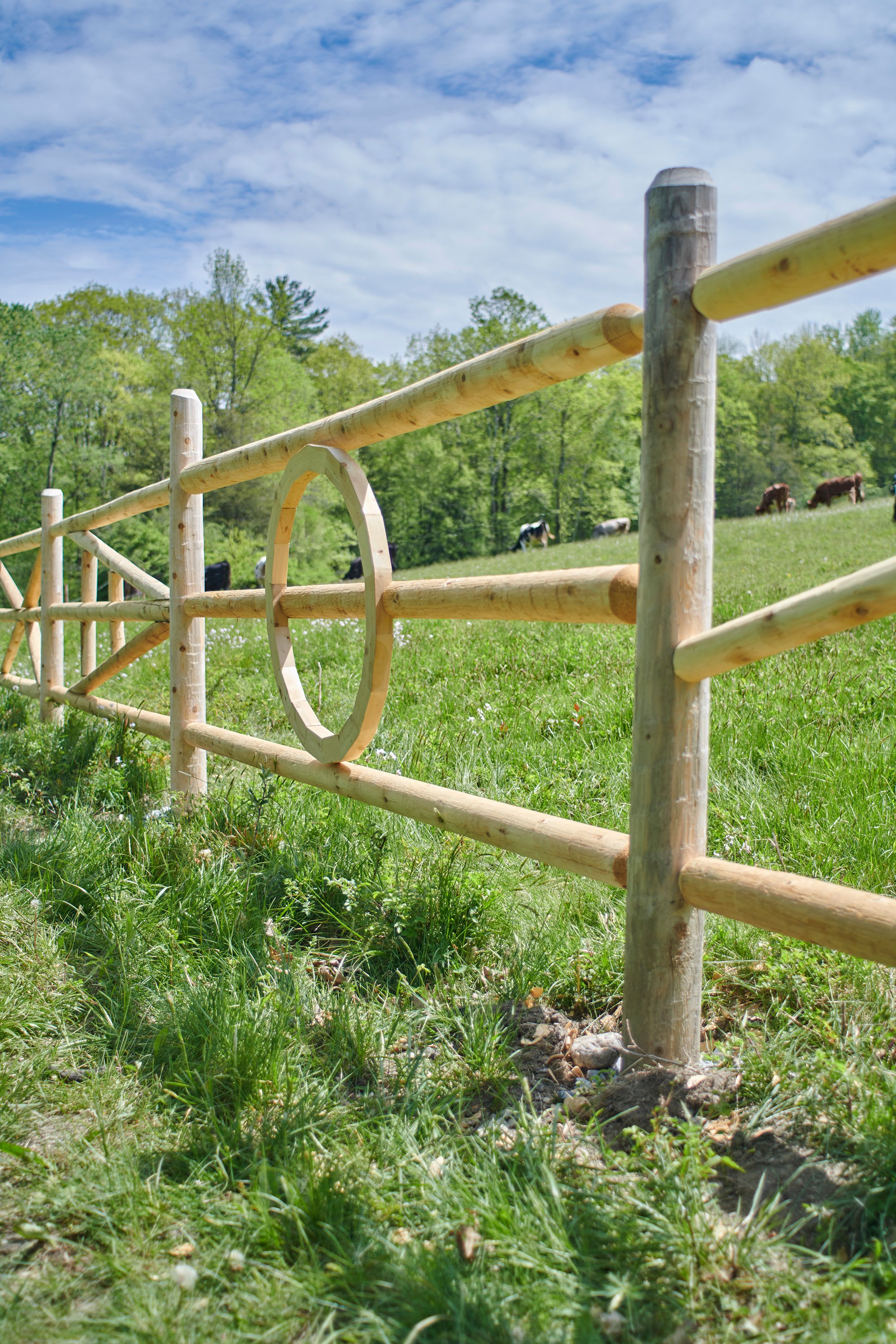 Analia Saban
b. Buenos Aires, 1980; lives and works in Los Angeles

Teaching a Cow How to Draw
2020
Cedarwood
Courtesy of the artist and Tanya Bonakdar Gallery, New York / Los Angeles
Photo: Thomas Clark

Analia Saban's modified fence acts both functionally, as a barrier between the seasonal cow pasture and the Clark's buildings, and conceptually, as a 620-foot-long drawing in space. In the work, Saban illustrates various theories of composition found throughout art history, including the rule of thirds, the golden ratio, and two-point perspective. Consistent with the artist's ongoing interest in found objects, this reimagining of a familiar structure also blurs the boundaries between what is and what is not a work of art. The artist, in her words, "connects the cows to the work of the museum," expanding definitions of the viewer. In her wry title, Saban pays homage to Teaching a Plant the Alphabet (1972), a work by her mentor, the late conceptual artist John Baldessari. Baldessari's video, which documents the artist giving an English lesson to a potted plant, asserts that anything can be art, an idea consistent with Saban's own inclusive approach to materials and methods.
Listen to the artist talk about this work
Analia Saban  (b. 1980, Buenos Aires) explores the intersections and overlap between traditional media and new technologies, disrupting conventional techniques of drawing, painting, weaving, and sculpture to probe the capacity of an object and the myriad meanings found within its form. Her work is in the collections of the Los Angeles County Museum of Art; the Centre Pompidou; The Israel Museum, Jerusalem; the Hessel Museum of Art at Bard College, Annandale-on-Hudson, New York; Fonds regional d'Art contemporain (FRAC) d'Auvergne, France; the Hammer Museum and the Museum of Contemporary Art, Los Angeles, among others. The Modern Art Museum of Fort Worth (2019) and the Blaffer Art Museum, Austin, Texas (2016) have both presented solo exhibitions of Saban's work. Saban lives and works in Los Angeles.