celebrating 50 years!
The Clark houses one of the most distinguished art research libraries in the country, with more than 295,000 volumes in over 72 languages. From its opening in 1973 the library has grown and changed over the years to accommodate teaching spaces, visual resources, new programs and initiatives, and a never-ending array of new technologies (in addition, of course, to its growing collection of books), always striving to meet the needs of our valued students, scholars, staff, patrons, and researchers.
Serving the general public as well as visiting scholars and local students and faculty, the Clark library welcomes all visitors to use its reference and research services and to enjoy its collections. An extensive array of electronic resources and reference materials support scholarly research in the field of Art History. Library staff are dedicated to assisting all users to access the library's wide-ranging and diverse collections.

MORE
New Acquisitions Book of the Week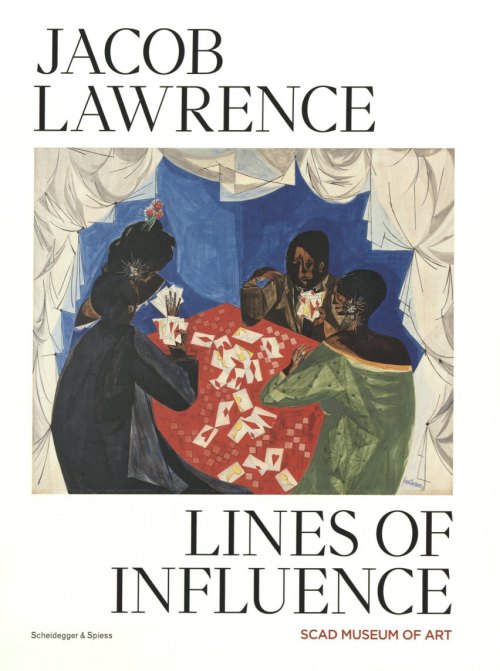 Jacob Lawrence: Lines of Influence. Editor, Storm Janse van Rensburg. Zurich, Switzerland : Verlag Scheidegger & Spiess ; Savannah, GA : SCAD Museum of Art, 2020.
Jacob Lawrence : Lines of Influence explores the life, work, and legacy of Jacob Lawrence (1917-2000): acclaimed painter, storyteller, educator, and chronicler of the mid-20th-century African American experience. As a celebration of the centennial of the artist's birth, this publication follows the exhibition of the same name, organized by SCAD Museum of Art in fall 2017.
The exhibition's first section, 'Relations', traces some of the engagements that shaped Lawrence's personal and professional life and presents his work in dialogue with that of his contemporaries, mentors, and historically significant artists. Part two, 'Legacy', explores Lawrence's influence on contemporary artists living and working today and those who share similar formal and conceptual concerns. Thematic strands in the original exhibition include the uncovering of historical blind spots, a preoccupation with narrative and storytelling, and the elevation of everyday experiences as symbolic markers.
LIBRARY HOURS
PUBLIC HOURS
The library is open without appointment. Hours are:
Monday - Friday, 9 am to 5 pm
All are welcome to email the library with reference/research questions.
HOLIDAYS
The library is closed to the public on the following holidays:
New Year's Day
Presidents' Day
Memorial Day
Juneteenth
Independence Day
Labor Day
Indigenous Peoples Day
Thanksgiving (2 days)
Christmas (2 days)
EXTENDED HOURS
Extended hours are available to holders of a Clark badge or a Reader's Card. Reader's cards are given by application. Cards may not be appropriate for all applicants but we will always do our best to meet your research needs!
Mon-Thurs 8 am to 11 pm
Friday 8 am to 6 pm
Saturday 9 am to 6 pm
Sunday 9 am to 11 pm
HOLIDAYS
With the exception of Christmas Day and New Year's Day the library is open during holidays to anyone eligible for extended hours.