---
Robert Sterling Clark Collection of Rare Books
Robert Sterling Clark's interest in collecting art was almost equally matched by his interest in collecting books. The Clark Art Institute's library houses the Robert Sterling Clark Collection of Rare Books, which numbers about 1,600 titles.
Sterling Clark began his collection by acquiring books on horses and horsemanship, partly for the information they contained but also for their illustrations. Although books on horses constituted Clark's first purchases as a collector he quickly began to branch out, eventually building a collection that—like the collection of books on horses—includes major classics in rare editions with an emphasis on fine illustrations. Sterling Clark was also interested in and knowledgeable about bindings. His collection includes many examples of particularly beautiful fine bindings, many of which can be seen in the sidebar.
Books on costume and fashion and classic works of literature make up an important part of the collection. Most of the literature is in French, but Clark's tastes also included English literature and he was especially fond of the work of Rudyard Kipling. The Clark library has acquired, by gift and purchase, books that complement and augment the Robert Sterling Clark collection; some examples can be seen below and in the spectacular binding of an 1828 edition of Goethe's Faust, at right.
---
Clark's collecting of books on horses and horsemanship continued throughout his lifetime. Antoine de Pluvinel's L'instrvction dv Roy en l'exercice de monter à cheval (1629) is an important equestrian classic, with illustrations that depict the fashions of the day as well as Pluvinel's innovations in training horses.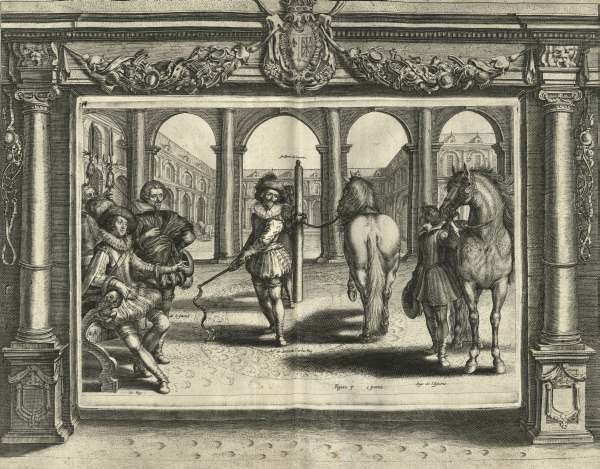 Les metamorphoses d'Ovide (1767–71) includes designs by three generations of the greatest French illustrators of the period. In this illustration by Charles Eisen, Phaethon, having demanded of his father Phoebus that he be allowed to drive the chariot of the sun across the heavens for one day, and having lost control of the horses, is being struck down by Jupiter's lightning bolt.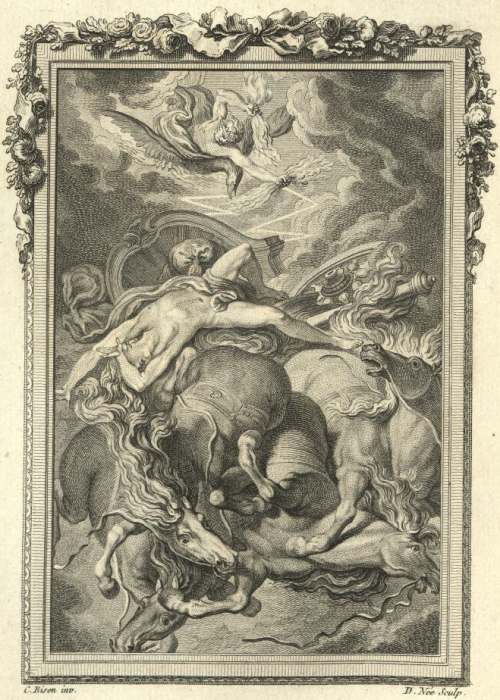 In Fables choisies (1755–59), La Fontaine's fable "Les Devineresses" tells of two fortune-tellers, one of whom loses her customers when she adopts a lavish lifestyle, while the other lives in a garret and thus retains the [misplaced] trust of her gullible clients.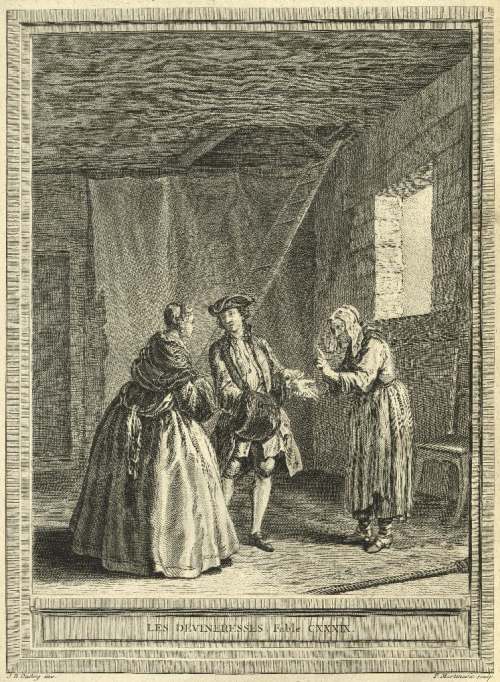 In one of the stories in Giovanni Boccaccio's Le Decameron (1545), Masetto, a young laborer, hires himself out as a gardener at the local nunnery by pretending to be deaf and mute. Thinking he can't speak, several of the nuns find him sleeping in the garden and take him to their chambers to enjoy his prowess. Upon discovering that he is neither deaf nor mute, the abbess has no choice but to promote him to steward so he won't give away the nuns' reputations.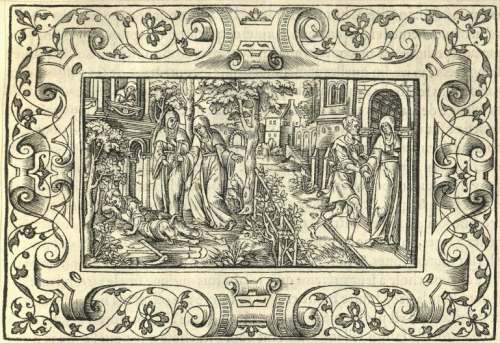 A later edition, Il Decamerone (1757), complements Clark's 1545 edition. Plates and tailpieces created by Gravelot perfectly capture the essence of each story. In this engraving the hapless Calandrino is caught by his wife as he attempts to seduce Niccolosa. Calandrino's friends, who together with Niccolosa have arranged the discovery, are visible in the loft. The wife's anger, Calandrino's dismay, the pranksters' delight, and a very detailed setting are all captured in an image slightly smaller than 2 ½ x 4 inches.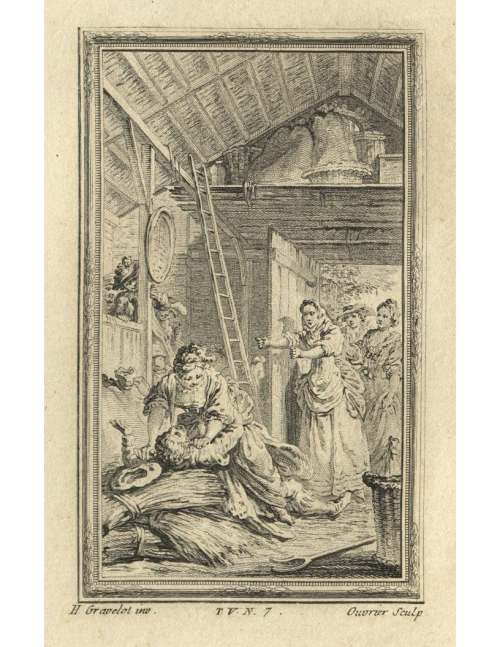 Les amours pastorals de Daphnis et Chloé by Longus (1718), illustrated by Philippe d'Orléans, tells the story of Daphnis and Chloé, who as children are abandoned by their parents and raised by shepherds on the island of Lesbos. The two meet and fall in love as they grow up. After various trials the lovers are reunited with their families and married. In this exquisite engraving, Pan appears to the Methymnaean general Bryaxis, who has carried Chloé away, and commands him to bring her back to Daphnis.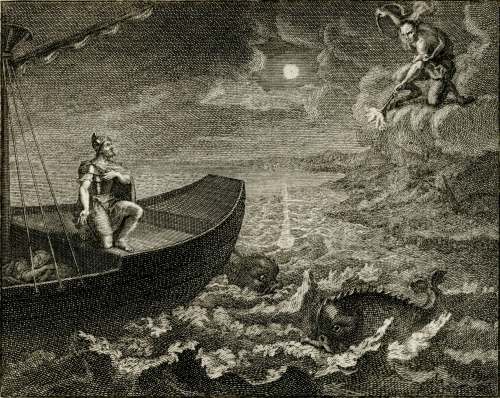 A later edition, Les amours pastorales de Daphnis et de Chloé (1800), includes plates engraved after drawings by Prud'hon and Gerard. This gorgeous illustration depicts Daphnis and Chloé at the happy end of their trials, newly married and with the wedding party serenading them outside the door as they enter their nuptial chamber.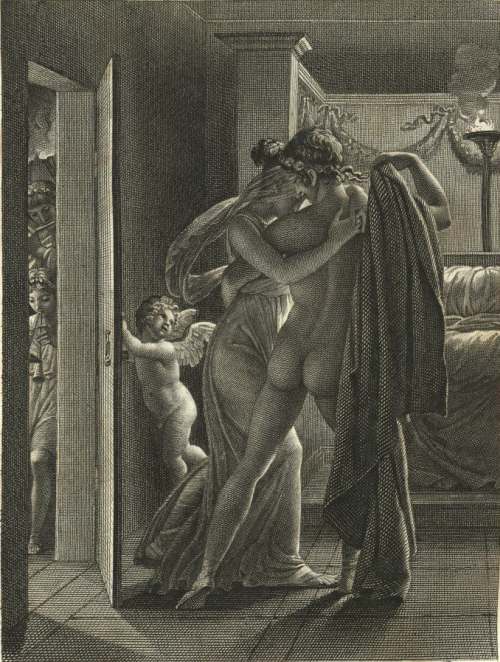 An example of the purchase of a later book that complements the RSC collection is Les pastorals de Longus, ou Daphnis et Chloé (1902), exquisitely illustrated by Pierre Bonnard.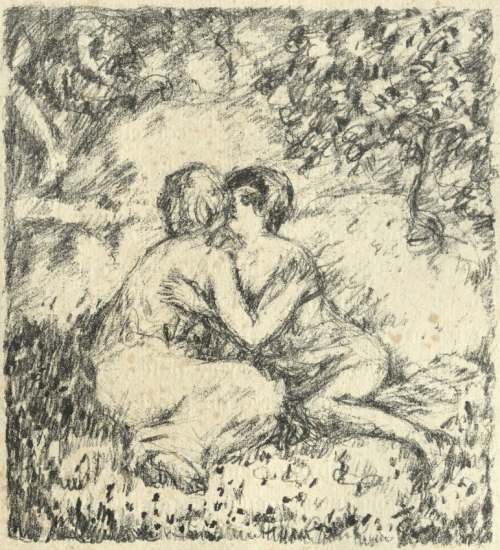 Costume books were a strong area of interest for Sterling Clark. One of the earliest works he acquired was Le jardin de la noblesse francoise… (1629), with plates by Abraham Bosse that depict the costume of the aristocracy during the reign of Louis XIII.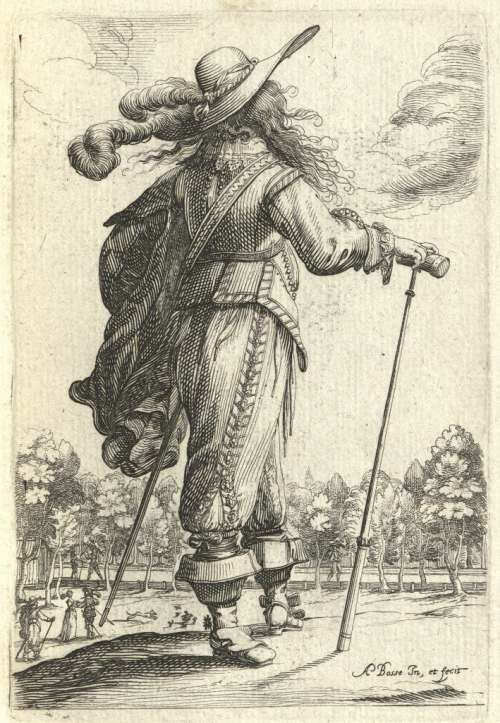 Other costume books include color plates that depict not only the fashions but also the pastimes and occasionally the oddities of eighteenth and nineteenth century society. This plate from Modes de Paris (Paris, 183-?) depicts a young man of fashion, while behind him—in a humorous touch—two soldiers are shown, one in outrageous headgear and one of prodigious girth.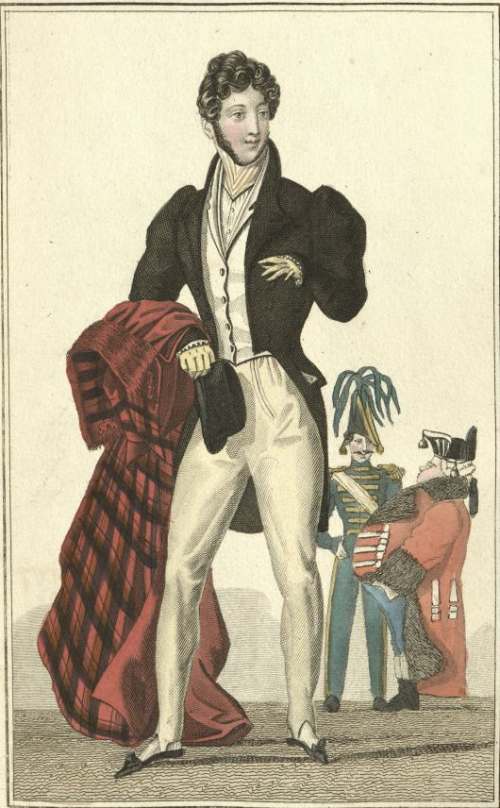 The costume of the eighteenth century seemed to lend itself naturally to caricature. Below, an illustration of the latest fashion in bonnets from Costume of the Ladies of Paris and London (1806), a collection of actual fashion plates, can be compared to the illustration entitled "the hindrance of the hats" from Observations sur les modes et les usages de Paris... (1827), which caricatured the fashions of the day. It is not easy to tell which is the caricature.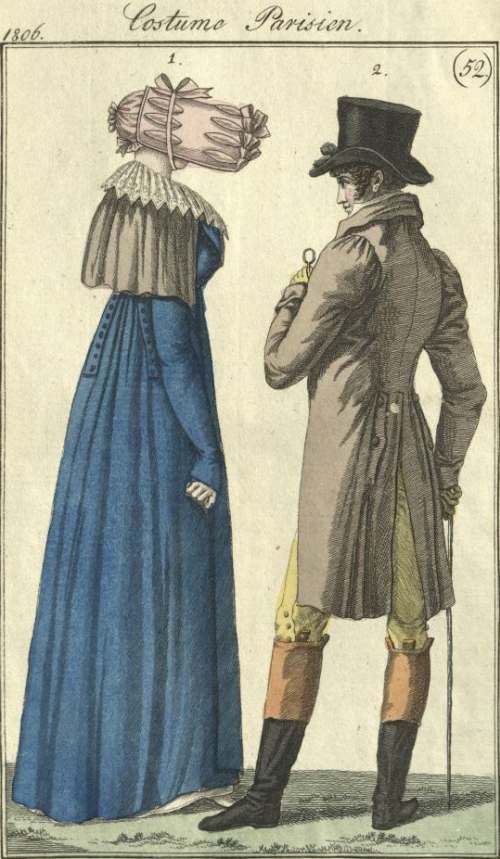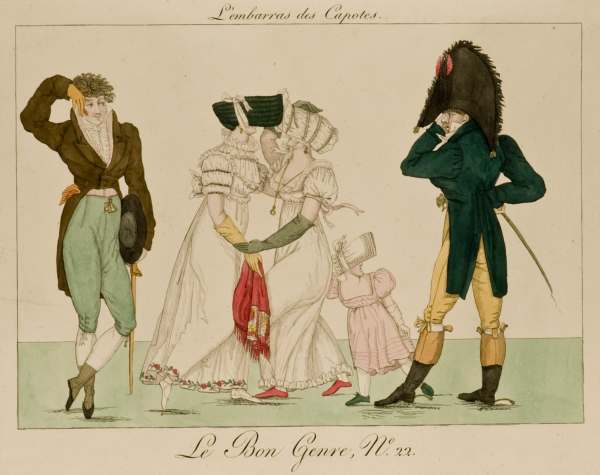 Exquisitely illustrated by the most renowned fashion artists of the day, including Armand Vallée (below) and Georges Barbier, fashion plates from Journal des dames et des modes (1912–14) show the influences on fashion of cultures considered at that time to be exotic, colorful, and fascinating.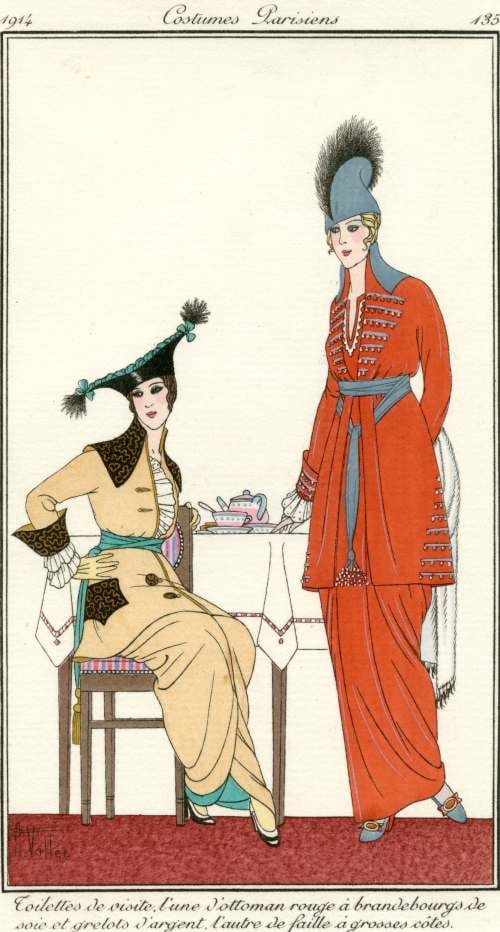 Sterling Clark collected many books on Parisian life, particularly the colorful, slightly scandalous side of Parisian life. In Les lorettes (1841–43), Paul Gavarni's lithographs caricature a particular type of 19th-century Parisian courtesan, the lorette. Here, two lorettes are speaking about their approaching lovers. One says, "Mine is blond...I hate blonds; you hate brunettes, so let's switch." The other replies, "You have no shame! Mine is wearing a dressing gown lined with silk throughout. I want to switch back..."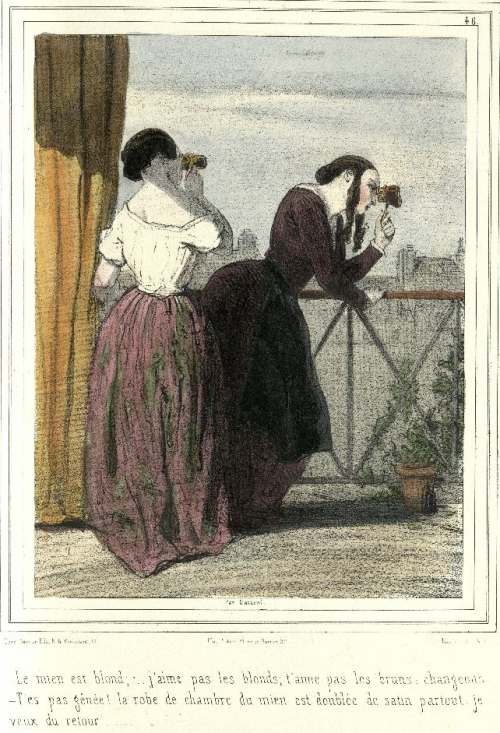 La Famille Cardinal by Ludovic Halévy (1883) was a limited edition of fifty copies printed with wide margins so that each collector could commission illustrations from a chosen artist. Illustrated on every page with lively watercolors by Henriot that play with the whole concept of how illustrations and text interweave, the Clark copy is one of a kind. In this illustration, a couple meets at the top of a ladder that appears to lean against the back of the text block. On the following page the couple tumbles as the ladder falls, perhaps kicked over by the dancer in the left margin.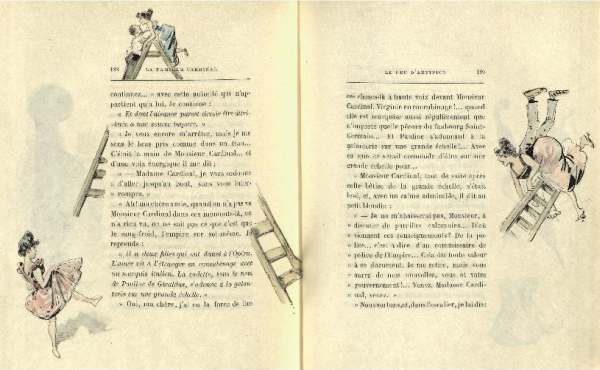 The illustration below is from a later edition of La Famille Cardinal (1939), acquired to complement the Robert Sterling Clark Collection. Illustrated by Edgar Degas, this edition has a dark, brooding, interior ambience compared to the edition illustrated so playfully by Henriot.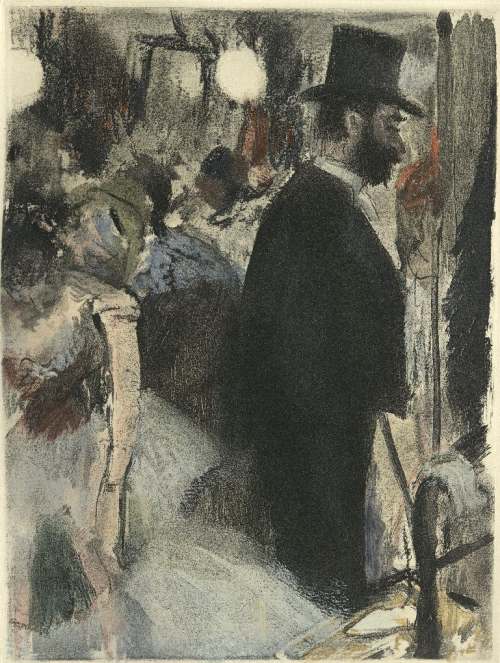 A marvelously illustrated handbook on gastronomy must have appealed to Sterling Clark's sense of humor, as well as his interests in fine cuisine and wines. Brillat-Savarin's gastronomic classic Physiologie du goût, with drawings by de Bertall (1864), takes the form of various "meditations" on such culinary subjects as appetite, thirst, and digestion. In this meditation on drink, a demon uncorks a bottle of wine as people kneel in worship around it. In the foreground, people drink more healthfully: two Chinese men drink tea, a farmer carries buckets of fresh milk, and an old man is served something hot, perhaps broth.