Haegue Yang
Haegue Yang
b. Seoul, 1971; lives and works in Berlin and Seoul

Migratory DMZ Birds on Asymmetric Lens
2020
Tee-Cher Tee-Cher Vessel (Great Tit)
Hou-Ke-Kyo Vessel (Japanese Bush Warbler)
Duiitt Vessel (Gray-Backed Thrush)
Courtesy of the artist and kurimanzutto, Mexico City / New York
Please note: This work is not yet installed. It will be on view in early October 2020.
In April 2018 the leaders of North and South Korea met in the Demilitarized Zone (DMZ), a lush and biodiverse area 160 miles long by 2.5 miles wide located between the two countries with no human inhabitants. At one point during this historic meeting, the leaders requested to speak in private, apart from the crowd of journalists who had gathered to report on the event. Despite attempts by members of the press to record their conversation, only birdsong and the click of cameras were audible.
In Haegue Yang's three-part project, Migratory DMZ Birds on Asymmetric Lens, bird species native to the DMZ travel to the unfamiliar setting of New England. Part presence, part absence, these portraits of birds create both an image and a vessel where their local counterparts can fly to, perch on, and bathe in when rainwater collects. Made of 3-D printed transparent ecological resin set atop robotically milled stone pedestals, these sculptures combine synthetic and natural materials and demonstrate the artist's interest in new technologies of production. With these hybridic forms, Yang crafts an encounter with nature, collapsing the boundaries between history and place, the familiar and the unknown, isolation and separation. Dispersed in the landscape, these three sculptures, in the artist's words, "scatter the narrative," encouraging visitors to wander through the terrain and discover each example in a different environmental context. In Yang's assessment, the natural world is ignorant and indifferent to civilizational history. Therefore, the artist imagines these three birds, unburdened by the borders and limitations that human society imposes, making their way to the North East of the United States in a kind of avian diaspora to settle on Stone Hill amongst the native inhabitants.
Listen to the Artist Talk about this work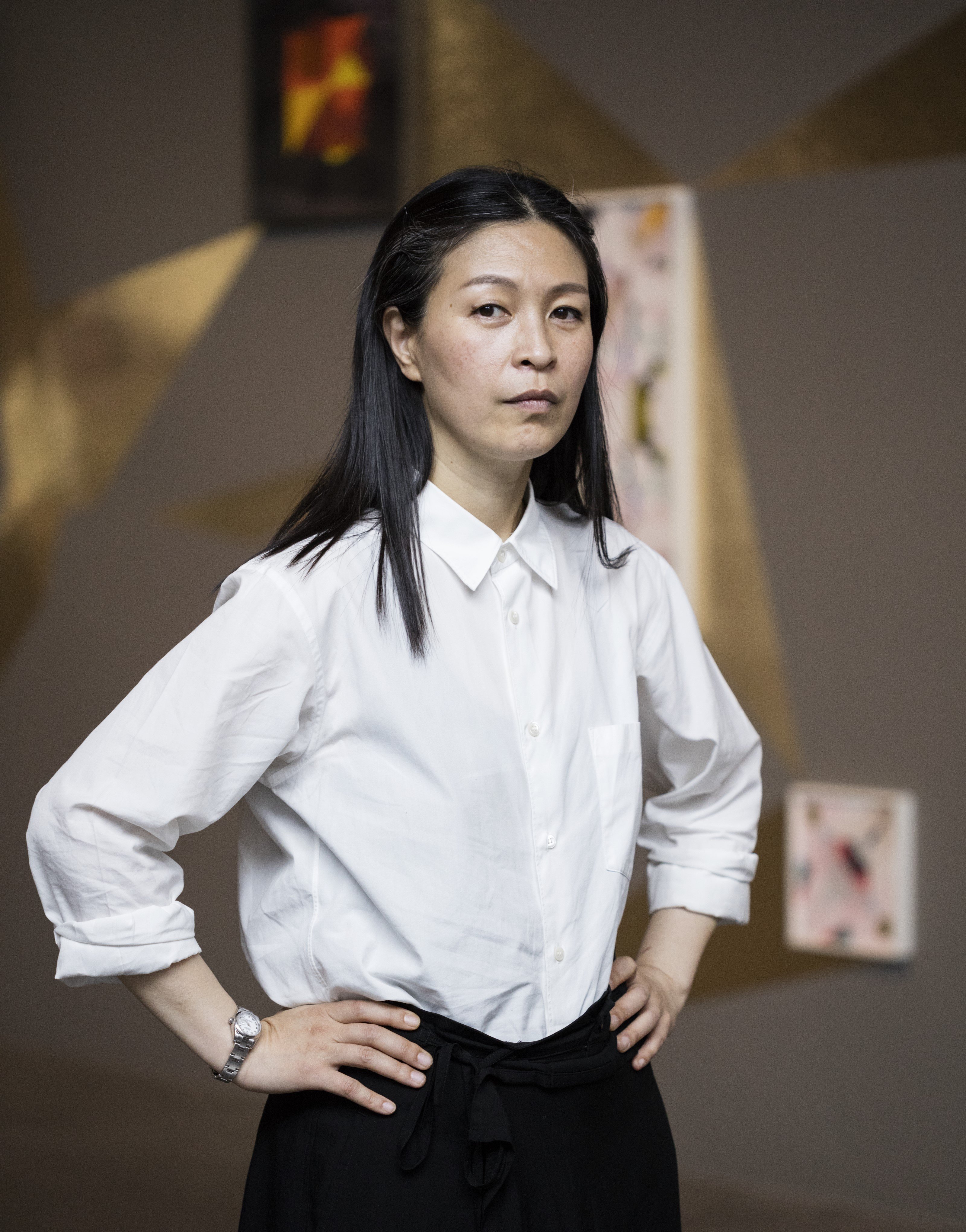 Photo: Abigail Enzaldo
Haegue Yang (b. 1971, Seoul) explores themes of social and political histories in her work, extricating familiar objects and materials from their primary functions and environments and repurposing them in a new framework of abstraction. Yang's work is held in the collections of The Museum of Modern Art; Tate Modern; the Solomon R. Guggenheim Museum; M+, Hong Kong; National Museum of Modern and Contemporary Art, Seoul; and the Walker Art Center, among others. Recent solo exhibitions include projects at the Bass Museum of Art, Miami Beach (2019); South London Gallery (2019); Museum Ludwig, Cologne (2018); KINDL - Centre for Contemporary Art, Berlin (2018); Centre Pompidou (2016); and the Serralves Museum, Porto, Portugal (2016). A new commission by the artist was recently on view at the Marron Atrium of the renovated Museum of Modern Art, New York. Forthcoming solo projects in 2020 include exhibitions at the Art Gallery of Ontario, MMCA Seoul, MCAD Manila, and Tate St. Ives. Yang lives and works between Berlin and Seoul.