Ground/work is free and open to the public, night and day. No tickets are required
Eva LeWitt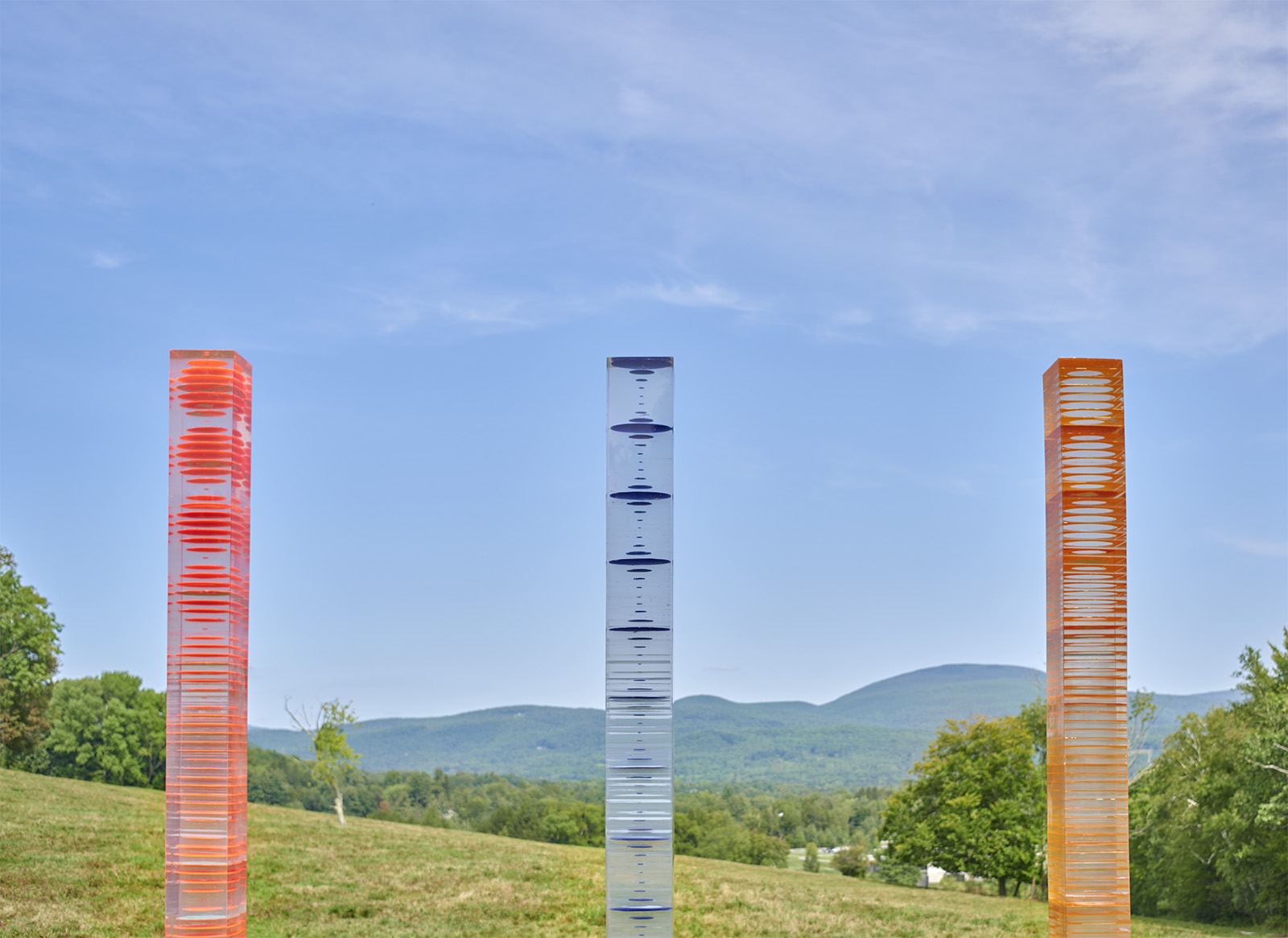 Eva LeWitt
b. Spoleto, 1985; lives and works in New York
Resin Tower A (Orange)
Resin Tower B (Yellow)
Resin Tower C (Blue)
2020
Resin, PVC
Courtesy of the artist and VI, VII, Oslo
Photo: Thomas Clark.

Standing nearly eleven feet tall, Eva LeWitt's Resin Towers are assembled from hand-cut pieces of colorful plastic suspended in layers of transparent resin. The exploration of materials is vital to LeWitt, who sees this manual labor as an essential component of her practice in the studio. Within each column, a monochromatic pattern of an expanding and contracting sphere unfurls. The vertical stacking of these repeating forms creates a three-dimensional drawing that recedes and reveals itself depending on the viewer's position. Merging this language of shape with that of color, the artist channels components of the surrounding landscape (sky, woods, grass, light) and the rotating seasons as ingredients in her composition. The bright palette of these towers—fluorescent orange, yellow, and light aqua—acts as a beacon, calling down the hill and beckoning visitors to their site. Staging this encounter with vibrant color within an open space where the wooded trails give way to the expansive view of the pasture, LeWitt contrasts the harmony of geometry and the purity of hue against an ever-shifting landscape.
Listen to the artist talk about this work
Eva LeWitt  (b. 1985, Spoleto, Italy) leverages forces of color, gravity, suspension, and volume with a sensitivity to space, an interest in repetition and variation, and a reconsideration of materials and their inherent properties. Her work is held in the permanent collections of the Hirshhorn Museum and Sculpture Garden, Washington, D.C.; Kistefos Museum, Jevnaker, Norway; and M Woods, Beijing. LeWitt's current and recent solo exhibitions include presentations at The Aldrich Contemporary Art Museum, Ridgefield, Connecticut (2019); The Jewish Museum, New York (2018); and VI, VII Gallery, Oslo (2018). A site-specific commission by the artist at the Institute of Contemporary Art/Boston will be unveiled in January 2021. LeWitt lives and works in New York.