Enchanted Landscapes: Nature and Myth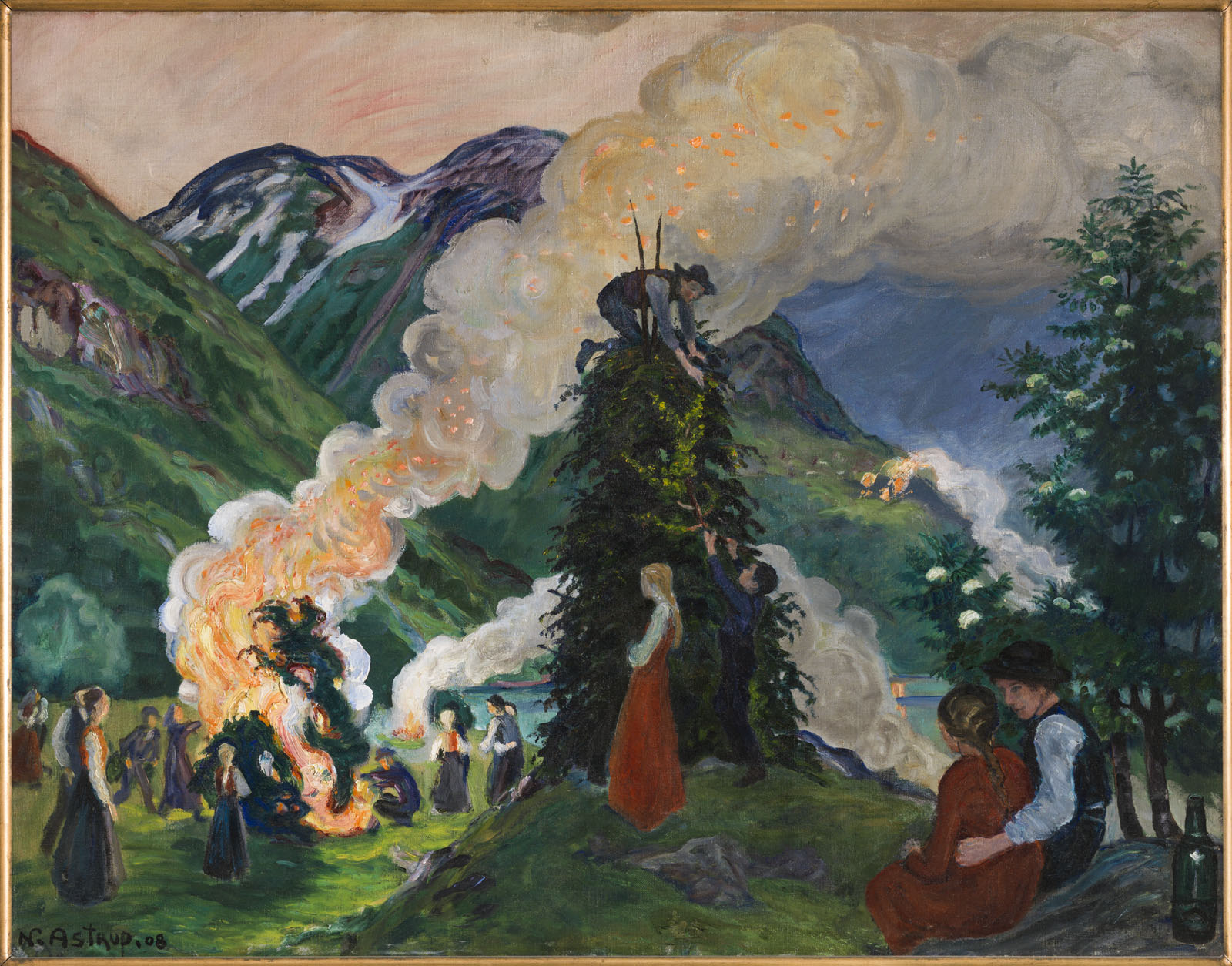 Nikolai Astrup (Norwegian, 1880–1928), Preparations for the Midsummer Eve Bonfire, 1908. Oil on canvas, 30 5/16 x 38 9/16 in. (77 x 98 cm). Private collectionAstrup's imagination was shaped by Norwegian folktales. As a child, he read the stories and legends collected by Peter Christen Asbjørnsen and Jørgen Moe; their Norske folkeeventyr (Norwegian Folktales) was first published in 1841 and went through many editions, introducing readers to trolls, talking animals, and other characters inextricably bound up with the mountains and fjords of Norway. Astrup would imbue many of his landscapes with magic and myth, demonstrating how crucial these elements were to the formation of a specifically Norwegian culture and identity.
Midsummer Eve celebrations captivated him. Dating from the Middle Ages, this celebration, rooted in pagan fertility rites, included lighting bonfires on the evening of June 23. These fires were built along coasts, fjords, and lakeshores and in the hills and mountains above. First, small bonfires would be lit, acting as signals to light larger bonfires in other villages simultaneously. These would blaze throughout the night. Dancing, drinking, feasting, and storytelling ensued well into the morning. The celebrations heralded St. John the Baptist's feast day on June 24, but Astrup's father, the Lutheran pastor at Ålhus, forbade his family from partaking in the celebrations, given their pagan origin. Disappointed, young Astrup watched the festivities from afar, the bright fires, billowing smoke, and swirling dancers making a deep impression on him, inspiring dramatic paintings and a woodcut print of this subject.