June 19 - September 19, 2021
ABOUT THE EXHIBITION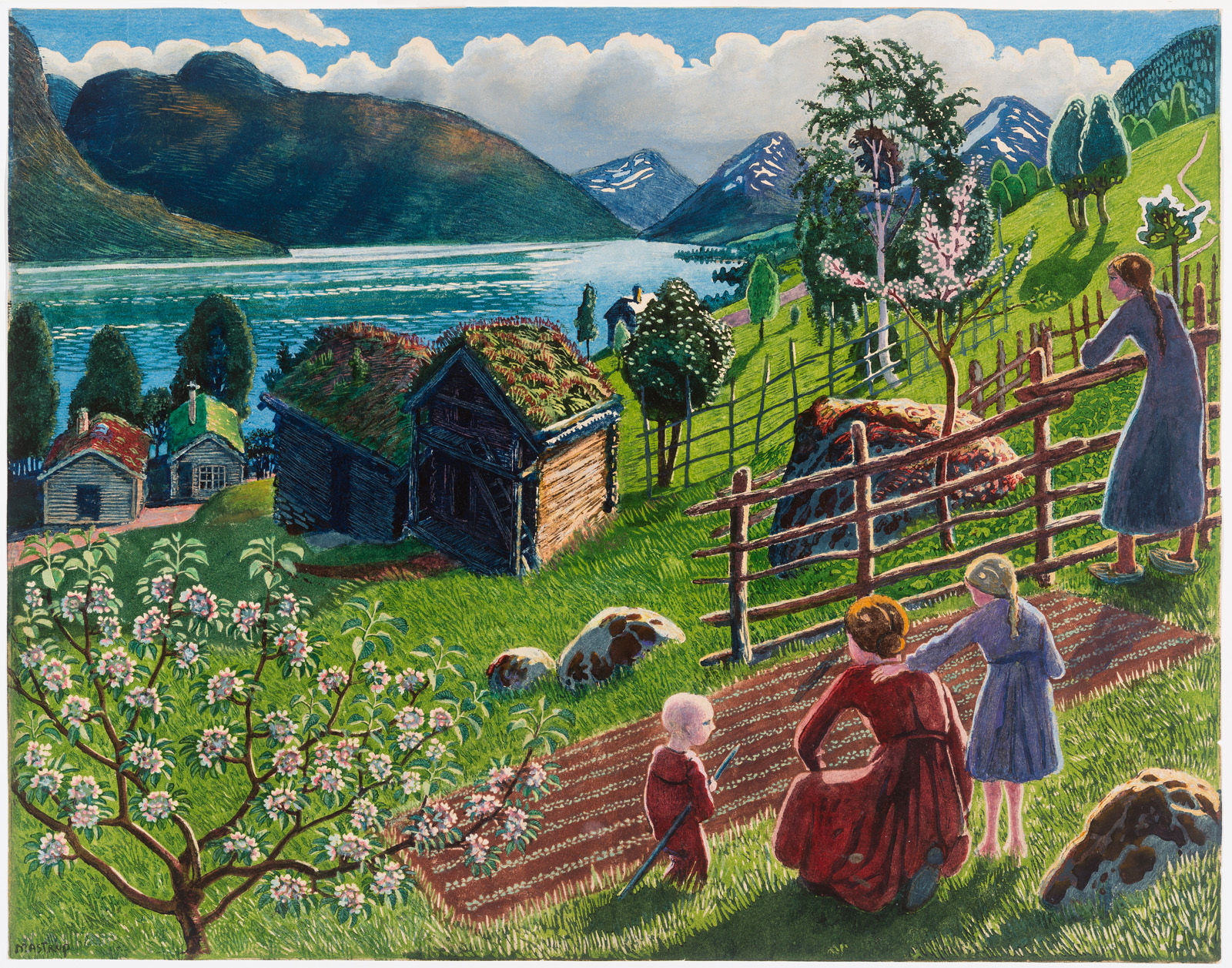 Nikolai Astrup (Norwegian, 1880–1928), Growing Season at Sandalstrand, linoleum and woodblock, 1923; print, 1923. Color linocut and woodcut with hand coloring on paper, 16 9/16 x 21 in. (42 x 53.4 cm). Savings Bank Foundation DNB / KODE Art Museums and Composer Homes, Bergen
Nikolai Astrup: Visions of Norway celebrates the innovative Norwegian painter, printmaker, and horticulturist Nikolai Astrup (1880–1928). The first retrospective of this artist's work in North America, this exhibition examines Astrup's remarkable life, the development of his distinctive style, and his keen interest in the landscape and folk traditions of western Norway.
Astrup began his career following a conventional path, studying painting in Kristiania (now Oslo) and Paris. On finishing his studies abroad, he made the unexpected decision not to settle in Kristiania, the artistic capital of Norway, but to return to Jølster, the region in western Norway where he spent his childhood. He lived in this relatively remote area for the rest of his life, producing an unparalleled body of work that celebrates Norway's dramatic scenery, challenging climate, and rich local traditions. Despite his relative geographic isolation, he was acutely aware of, and interested in, contemporary developments in European art that nurtured his own style. He also explored woodblock printing, adopting an increasingly complex process that resulted in almost every print being a unique impression. With intense colors, patterned surfaces, and illogical perspectives, Astrup's art is decidedly individual and modern, and invites discovery and enjoyment.
Nikolai Astrup: Visions of Norway is organized by the Clark Art Institute, Williamstown, Massachusetts, in cooperation with KODE Art Museums and Composer Homes, Bergen, the Savings Bank Foundation DNB, and Prince Eugen's Waldemarsudde. It is guest curated by independent scholar MaryAnne Stevens.
The exhibition is generously supported by the Savings Bank Foundation DNB. Significant funding is provided by the Asbjorn Lunde Foundation, Inc. with additional support from Richard and Carol Seltzer, Diane and Andreas Halvorsen, and the Norwegian Consulate General, New York. The exhibition catalogue has been published with generous support from the Savings Bank Foundation DNB and additional support from the Asbjorn Lunde Foundation, Inc.