The first exhibition to unite masterpieces from the remarkable collections of Sterling Clark and Stephen Clark will be presented at the Sterling and Francine Clark Art Institute from June 4 to September 4, 2006. Featuring over 70 paintings, The Clark Brothers Collect: Impressionist and Early Modern Paintings will examine the brothers' collecting and explore their relationship, their rivalry, and the influential but ultimately divergent roles they came to play in the arts in the United States.

Among the highlights in the exhibition are a number of iconic works from the 19th and early 20th centuries, including Van Gogh's The Night Café (Le Café de Nuit) (1888, Yale University Art Gallery) from Stephen's collection, and Renoir's At the Concert (1881) from Sterling's collection, as well as a number of rarely exhibited works from private collections.

The exhibition was organized by the Sterling and Francine Clark Art Institute in collaboration with The Metropolitan Museum of Art.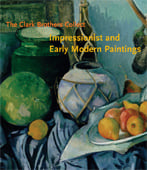 The Clark Brothers Collect
Impressionist and Early Modern Paintings
Michael Conforti, James A. Ganz, Neil Harris, Sarah Lees, and Gilbert T. Vincent
With additional contributions by Daniel Cohen-McFall, Mari Yoko Hara, Susannah Maurer, Kathleen M. Morris, Kathryn Price, Richard Rand, and Marc Simpson

This meticulously researched and handsomely produced volume accompanies the exhibition and explores the superlative collections of brothers Sterling and Stephen Clark. Detailed biographical essays are complemented by discussions of specific artists and paintings that Sterling and Stephen collected, offering new insights into the brothers' personal lives and public profiles, and situating them within the history of American museums and philanthropy. Featuring more than three hundred archival photographs and illustrations of the works from their collections, the book also includes an illustrated chronology and a previously unpublished checklist of works purchased by these two influential yet relatively unknown collectors.
384 pages, 9 ½ x 11 inches
149 color, 64 quadratone, and 130 halftone illustrations
2006
Published by the Sterling and Francine Clark Art Institute, and distributed by Yale University Press, New Haven and London
ISBN 0-931102-65-0 (softcover)
ISBN 0-300-11619-5 (hardcover)