Edward Hopper
House by the Railroad, 1925
Oil on canvas
The Museum of Modern Art, New York. Given anonymously, 1930
Stephen Clark bought this painting in 1926, becoming one of Hopper's earliest supporters. When Clark donated it five years later to the new Museum of Modern Art, it was the first painting to enter the permanent collection. The Victorian house, sharply lit and cut off from us by the railroad tracks, has an unsettling presence.
Thomas Eakins
Professor Henry A. Rowland, 1897
Oil on canvas
Addison Gallery of American Art, Andover, Massachusetts. Gift of Stephen C. Clark, Esq.
Stephen Clark gave Eakins's life-size portrait of Professor Rowland to the Addison Gallery of American Art before the gallery opened in 1931. Rowland, a physicist, is shown in his workshop holding a diffraction grating, a grooved plate that separates the color spectrum. Eakins constructed the frame and ornamented it with Rowland's notes on spectroscopy.
Winslow Homer
Hound and Hunter, 1892
Oil on canvas
National Gallery of Art, Washington, D.C. Gift of Stephen C. Clark
This painting represents a method of hunting called "hounding" that was popular in the Adirondacks, in which dogs drove deer into lakes where they could be easily killed. Stephen, who acquired fourteen works by Homer, owned the painting for only a year before giving it to the National Gallery of Art.
John Singer Sargent
A Street in Venice, c. 1880-82
Oil on canvas
Sterling and Francine Clark Art Institute, Williamstown, Massachusetts
Purchased in 1913, this was the first American painting that Sterling acquired. Its painterly brio no doubt attracted Sterling's eye, while the subject might have reminded him of his recent art-buying trip to Italy. Of all the paintings by Sargent that Sterling owned, Stephen told his brother that he liked this one best.
Frederic Remington
The Scout: Friends or Foes, c. 1902–05
Oil on canvas
Sterling and Francine Clark Art Institute, Williamstown, Massachusetts
Remington's nocturnal scene of a lone Blackfoot Indian, whose isolation is emphasized by the stark landscape, is a haunting, evocative image. Sterling considered it "as nearly perfect as any scene of the sort I have ever seen." In the same year Sterling purchased this painting, Stephen bought a very similar work, an instance of the congruence of their tastes.
Winslow Homer
Undertow, 1886
Oil on canvas
Sterling and Francine Clark Art Institute, Williamstown, Massachusetts
In 1923–24 Sterling purchased six works by Homer, culminating in his acquisition of this ambitious canvas depicting human struggle against the power of nature. The figures' carefully modeled, sculptural forms, the shallow, frieze-like composition, and the dramatic nature of the rescue all give the image a monumental presence.
Thomas Eakins
Dr. Agnew (Dr. D. Hayes Agnew, 1818–1892), c. 1889
Oil on canvas
Yale University Art Gallery, New Haven, Connecticut. Bequest of Stephen Carlton Clark, B.A. 1903

John Singer Sargent
Portrait of Carolus-Duran, 1879
Oil on canvas
Sterling and Francine Clark Art Institute, Williamstown, Massachusetts
The realism of Eakins's depiction of the surgeon Dr. Agnew contrasts noticeably with Sargent's more bravura treatment of his debonair mentor Carolus-Duran. The painter Carolus-Duran is shown at leisure, while Dr. Agnew is holding his scalpel as if ready to use it on a patient, a detail that is accentuated by the blood-red inscription beneath the instrument. The paintings are like metaphorical portraits of their owners—Sterling the sophisticated Parisian dandy, and Stephen the serious American professional.
In the field of American painting, both brothers collected the work of certain artists in considerable depth. Winslow Homer particularly appealed to them—in total, the brothers acquired over twenty paintings by the artist. Sterling called Homer one of the "best artists of the nineteenth century" and considered his Homer paintings, drawings, and prints among the highlights of his collection. Sterling also acquired a remarkable suite of paintings by John Singer Sargent, while Stephen preferred the stark realism of Thomas Eakins and contemporary artist Edward Hopper. In collecting American paintings, Sterling maintained his usual low profile, but Stephen often collected with an eye toward donating them to museums. As he stated of Eakins's paintings, "it will be my aim to provide for their ultimate disposition in a way that will promote Mr. Eakins's fame for posterity," and he donated works by Eakins and Hopper to burgeoning institutions like the Addison Gallery of American Art and the Museum of Modern Art in New York.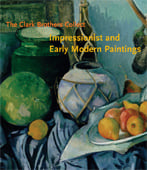 The Clark Brothers Collect
Impressionist and Early Modern Paintings
Michael Conforti, James A. Ganz, Neil Harris, Sarah Lees, and Gilbert T. Vincent
With additional contributions by Daniel Cohen-McFall, Mari Yoko Hara, Susannah Maurer, Kathleen M. Morris, Kathryn Price, Richard Rand, and Marc Simpson

This meticulously researched and handsomely produced volume accompanies the exhibition and explores the superlative collections of brothers Sterling and Stephen Clark. Detailed biographical essays are complemented by discussions of specific artists and paintings that Sterling and Stephen collected, offering new insights into the brothers' personal lives and public profiles, and situating them within the history of American museums and philanthropy. Featuring more than three hundred archival photographs and illustrations of the works from their collections, the book also includes an illustrated chronology and a previously unpublished checklist of works purchased by these two influential yet relatively unknown collectors.
384 pages, 9 ½ x 11 inches
149 color, 64 quadratone, and 130 halftone illustrations
2006
Published by the Sterling and Francine Clark Art Institute, and distributed by Yale University Press, New Haven and London
ISBN 0-931102-65-0 (softcover)
ISBN 0-300-11619-5 (hardcover)