Hilaire Germain Edgar Degas
Self-Portrait, possibly 1854
Oil on paper laid down on canvas
The Metropolitan Museum of Art, New York. Bequest of Stephen C. Clark, 1960
This relatively finished and formal painting, one of five works by Degas that Stephen owned, was made when Degas was about twenty. The artist has depicted himself wearing a smock over a crisp white shirt and dark jacket, clothing that recalls earlier self-portraits by both Italian and French masters.
Hilaire Germain Edgar Degas
Dancers in the Classroom, c. 1880
Oil on canvas
Sterling and Francine Clark Art Institute, Williamstown, Massachusetts
Sterling acquired nine works by Degas of dancing subjects. In this panoramic painting, the dancers are shown in a large practice room, their figures arranged along a diagonal line that crosses the wide canvas. The painting's unusual composition may have been inspired by Japanese prints, which the artist admired.
Berthe Morisot
The Bath (Girl Arranging Her Hair), 1885–86
Oil on canvas
Sterling and Francine Clark Art Institute, Williamstown, Massachusetts
Morisot's model is dressed in a simple white shift, but her gold jewelry and blue choker, as well as the action of arranging her hair, suggest that she is preparing to go out. Although quite different in mood from many of the images of women Sterling owned, this painting similarly conforms to his taste for pleasing subjects.
Claude Monet
Tulip Fields at Sassenheim, near Leiden, 1886
Oil on canvas
Sterling and Francine Clark Art Institute, Williamstown, Massachusetts
This is one of five paintings made by Monet during a trip to Holland in 1886. The thick impasto brushstrokes give depth and richness to the brilliantly colored field of tulips that borders a canal under a broad, open sky. This was the first of six paintings by Monet that Sterling acquired.
Camille Pissarro
The River Oise near Pontoise, 1873
Oil on canvas
Sterling and Francine Clark Art Institute, Williamstown, Massachusetts
Pissarro skillfully renders the transient effects of light in this early Impressionist work. It is one of four pictures he painted in 1873 featuring the Chalon et Brenot factory in Pontoise. Sterling was a great admirer of Pissarro, and was undoubtedly attracted to the bright palette and lively brushwork of this painting.
Alfred Sisley
Apples and Grapes in a Basket, 1876
Oil on canvas
Sterling and Francine Clark Art Institute, Williamstown, Massachusetts
One of only nine still lifes Sisley ever painted, this work is a complex study of surfaces and textures. The shine on the apples is quite different from the softer gleam of the grapes, and the stiff folds of the starched tablecloth contrast with the filmy curtain billowing in the background.
Édouard Manet
Young Woman Reclining in Spanish Costume, 1862–63
Oil on canvas
Yale University Art Gallery, New Haven. Bequest of Stephen Carlton Clark, B.A. 1903

Pierre-Auguste Renoir
Sleeping Girl with a Cat, 1880
Oil on canvas
Sterling and Francine Clark Art Institute, Williamstown, Massachusett
Though apparently similar in subject, these two paintings are very different in mood. Manet's model looks at us with a provocative expression, while the young subject of Renoir's painting sleeps peacefully, unaware that she is the object of our attention. Manet's painting, with its traditional composition and the sitter's fanciful costume, relates to the work of earlier artists; Renoir's canvas is self-consciously modern; the model's striped stockings, for example, are a distinctly contemporary detail.
In the 1910s and 1920s, when the Clark brothers began collecting European art, Impressionist paintings were becoming increasingly popular with American collectors. Sterling eventually acquired a broad range of works by most of the prominent Impressionists, works that soon formed the heart of his collection. These artists, he felt, had inherited and updated traditional Renaissance painting techniques. Stephen collected in this field much more selectively. He once commented to a dealer that "the Impressionist School does not interest me tremendously," but he did seek out singular masterpieces by artists such as Édouard Manet, Pierre-Auguste Renoir, and Edgar Degas.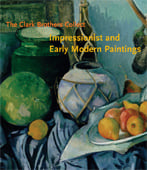 The Clark Brothers Collect
Impressionist and Early Modern Paintings
Michael Conforti, James A. Ganz, Neil Harris, Sarah Lees, and Gilbert T. Vincent
With additional contributions by Daniel Cohen-McFall, Mari Yoko Hara, Susannah Maurer, Kathleen M. Morris, Kathryn Price, Richard Rand, and Marc Simpson

This meticulously researched and handsomely produced volume accompanies the exhibition and explores the superlative collections of brothers Sterling and Stephen Clark. Detailed biographical essays are complemented by discussions of specific artists and paintings that Sterling and Stephen collected, offering new insights into the brothers' personal lives and public profiles, and situating them within the history of American museums and philanthropy. Featuring more than three hundred archival photographs and illustrations of the works from their collections, the book also includes an illustrated chronology and a previously unpublished checklist of works purchased by these two influential yet relatively unknown collectors.
384 pages, 9 ½ x 11 inches
149 color, 64 quadratone, and 130 halftone illustrations
2006
Published by the Sterling and Francine Clark Art Institute, and distributed by Yale University Press, New Haven and London
ISBN 0-931102-65-0 (softcover)
ISBN 0-300-11619-5 (hardcover)