Henri Matisse
Seated Odalisque, 1926
Oil on canvas
The Metropolitan Museum of Art, New York. Gift of Adele R. Levy Fund, Inc., 1962
© 2006 Succession H. Matisse, Paris/ Artists Rights Society (ARS), New York
Stephen began intensively buying Matisse's work in 1927, acquiring this and at least three other paintings that year. While the sitter's transparent blouse and loose trousers, as well as the arched Moroccan screen behind her, are alluringly exotic, she herself is clearly French, and the cushioned armchair is distinctly ordinary.
Paul Cézanne
The Card Players, 1890–92
Oil on canvas
The Metropolitan Museum of Art, New York. Bequest of Stephen C. Clark, 1960
This is one of five versions Cézanne painted of workmen from his family's estate absorbed in a game of cards. The largest version was owned by the prominent collector Albert C. Barnes, and Clark must have been pleased to acquire a comparable work when he purchased this painting, his second and perhaps most important by Cézanne, in 1931.
Pablo Picasso
Dog and Cock, 1921
Oil on canvas
Yale University Art Gallery, New Haven. Gift of Stephen C. Clark, B.A. 1903
© 2006 Estate of Pablo Picasso/ Artists Rights Society (ARS), New York
An inquisitive dog, his pink tongue extended, lurks under a table on which a dead rooster, a bottle, and five round shapes that are probably intended to represent eggs have been placed. The composition, with its juxtaposition of the living and the dead, may derive from an eighteenth-century painting in the Louvre. This is one of ten works by the artist that Clark acquired.
Édouard Vuillard
Interior, The Dressmaking Room, 1893
Oil on canvas
Collection of Jane Forbes Clark
The lively brushwork and dense patterns that fill this painting emphasize the surface of the canvas, simultaneously suggesting and negating pictorial space. Vuillard hints at a drama playing out between the two figures, probably his mother and sister, although in reality their relationship was mostly untroubled.
Henri Matisse
The Three O'Clock Sitting, 1924
Oil on canvas
Private Collection
© 2006 Succession H. Matisse, Paris/ Artists Rights Society (ARS), New York
This afternoon scene, related to a similar work titled The Morning Session, depicts Henriette Darricarrère, Matisse's frequent model, at work in Matisse's own studio in Nice. The image contains intriguing reversals, showing Henriette painting a nude male rather than being painted herself, while the scene is literally reversed in the mirror at the left
Vincent van Gogh
The Night Café, 1888
Oil on canvas
Yale University Art Gallery, New Haven. Bequest of Stephen Carlton Clark, B.A. 1903
Van Gogh described this image of the Café de la Gare in Arles, France, as a painting in which he "tried to express the terrible passions of humanity by means of red and green." One of Stephen's most spectacular purchases, it was acquired in 1933 along with three other works that had belonged to the Museum of Modern Western Art in Moscow.
Henri de Toulouse-Lautrec
Jane Avril, c. 1891–92
Oil on cardboard, mounted on panel
Sterling and Francine Clark Art Institute, Williamstown, Massachusetts

Pablo Picasso
Seated Woman, 1926
Oil on canvas
Art Gallery of Ontario, Toronto. Purchase with assistance from the Women's Committee and anonymous contributions, 1964
© 2006 Estate of Pablo Picasso/ Artists Rights Society (ARS), New York
Toulouse-Lautrec's portrait of the actress Jane Avril is among the most formally innovative paintings Sterling acquired. The schematic, linear brushstrokes recall poster designs, while the intensely saturated colors and dramatic lighting are almost expressionist. Nonetheless, the composition is far more traditional than Picasso's painting. Stephen appreciated Picasso's radically experimental work, in which the figure is fragmented into intersecting planes. This somewhat unsettling painting exemplifies the type of art that Sterling found unacceptable.
The greatest difference in the brothers' collecting lay in their attitudes toward modern art. Sterling stated, "I don't care what Cézanne, Matisse, and Gauguin thought or what they wanted to express… the rules of painting cannot be broken." In contrast, Stephen found Matisse to be "a great and original artist—one of the very few who can survive a long and intimate acquaintance." Indeed, Stephen's Post-Impressionist and twentieth-century paintings, by such artists as Van Gogh, Cézanne, and Matisse, came to define his collection, and they placed him at the forefront of the modern art world where, among other roles, he served as a founding trustee of the Museum of Modern Art in New York. Although he later changed his opinion of Matisse, selling all of the eighteen paintings he once owned, Stephen continued to collect key masterpieces by Paul Cézanne, Édouard Vuillard, and Pablo Picasso throughout his life.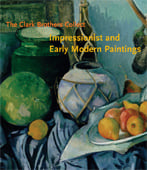 The Clark Brothers Collect
Impressionist and Early Modern Paintings
Michael Conforti, James A. Ganz, Neil Harris, Sarah Lees, and Gilbert T. Vincent
With additional contributions by Daniel Cohen-McFall, Mari Yoko Hara, Susannah Maurer, Kathleen M. Morris, Kathryn Price, Richard Rand, and Marc Simpson

This meticulously researched and handsomely produced volume accompanies the exhibition and explores the superlative collections of brothers Sterling and Stephen Clark. Detailed biographical essays are complemented by discussions of specific artists and paintings that Sterling and Stephen collected, offering new insights into the brothers' personal lives and public profiles, and situating them within the history of American museums and philanthropy. Featuring more than three hundred archival photographs and illustrations of the works from their collections, the book also includes an illustrated chronology and a previously unpublished checklist of works purchased by these two influential yet relatively unknown collectors.
384 pages, 9 ½ x 11 inches
149 color, 64 quadratone, and 130 halftone illustrations
2006
Published by the Sterling and Francine Clark Art Institute, and distributed by Yale University Press, New Haven and London
ISBN 0-931102-65-0 (softcover)
ISBN 0-300-11619-5 (hardcover)