Stephen and Sterling Clark amassed two of the most important art collections of the twentieth century, greatly developing America's taste for Impressionist, Post-Impressionist, and early modern painting. While they shared a love for great art, the brothers' preferences and collecting habits varied considerably. Sterling was an astute self-taught private collector, whose French Impressionist and nineteenth-century American masterpieces would form the core collection of the art museum and center for research and higher education that bears his and his wife's names. Stephen, an influential businessman and museum trustee, acquired landmark modern works by such masters as Cézanne, Matisse, Picasso, and Hopper, donating many of them to the public institutions with which he was affiliated.

Although close during their youth, the brothers had a falling out in 1923 over the disposition of their inheritance, and they soon severed all ties with one another. This exhibition reunites for the first time masterpieces once owned by Stephen Clark, and brings them together with highlights from Sterling Clark's collection. The brothers' collections have never before been brought face to face, and this exhibition reveals the distinctive nature of their tastes as it also explores the different ways both Sterling and Stephen Clark transformed the art world in which they were so deeply and passionately involved.
This exhibition was organized by the Sterling and Francine Clark Art Institute
in collaboration with The Metropolitan Museum of Art.

Above left: At the Concert, 1880, by Pierre-Auguste Renoir
(Sterling and Francine Clark Art Institute)
Above right: The Card Players, c. 1890–92, by Paul Cézanne
(The Metropolitan Museum of Art, New York. Bequest of Stephen C. Clark, 1960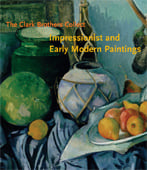 The Clark Brothers Collect
Impressionist and Early Modern Paintings
Michael Conforti, James A. Ganz, Neil Harris, Sarah Lees, and Gilbert T. Vincent
With additional contributions by Daniel Cohen-McFall, Mari Yoko Hara, Susannah Maurer, Kathleen M. Morris, Kathryn Price, Richard Rand, and Marc Simpson

This meticulously researched and handsomely produced volume accompanies the exhibition and explores the superlative collections of brothers Sterling and Stephen Clark. Detailed biographical essays are complemented by discussions of specific artists and paintings that Sterling and Stephen collected, offering new insights into the brothers' personal lives and public profiles, and situating them within the history of American museums and philanthropy. Featuring more than three hundred archival photographs and illustrations of the works from their collections, the book also includes an illustrated chronology and a previously unpublished checklist of works purchased by these two influential yet relatively unknown collectors.
384 pages, 9 ½ x 11 inches
149 color, 64 quadratone, and 130 halftone illustrations
2006
Published by the Sterling and Francine Clark Art Institute, and distributed by Yale University Press, New Haven and London
ISBN 0-931102-65-0 (softcover)
ISBN 0-300-11619-5 (hardcover)