Works Acquired by Sterling Clark

George Bellows
The Sea, 1911
Oil on canvas, 33 x 44 1/8 in.
Hirshhorn Museum and Sculpture Garden, Smithsonian Institution. Gift of the Joseph H. Hirshhorn Foundation, 1966

Camille Corot
The Castel Sant'Angelo, Rome, c.1835–40
Oil on canvas, 13 7/16 x 18 5/16 in.
Sterling and Francine Clark Art Institute, Williamstown, Massachusetts

Edgar Degas
Self-Portrait, c.1857–58
Oil on paper mounted on canvas, 10 1/4 x 7 1/2 in.
Sterling and Francine Clark Art Institute, Williamstown, Massachusetts

Edgar Degas
Dancers in the Classroom, c.1880
Oil on canvas, 15 1/2 x 34 13/16 in.
Sterling and Francine Clark Art Institute, Williamstown, Massachusetts

Winslow Homer
Two Guides, c. 1875
Oil on canvas, 24 1/4 x 38 1/4 in.
Sterling and Francine Clark Art Institute, Williamstown, Massachusetts

Winslow Homer
Undertow, 1886
Oil on canvas, 29 13/16 x 47 5/8 in.
Sterling and Francine Clark Art Institute, Williamstown, Massachusetts

Winslow Homer
West Point, Prout's Neck, 1900
Oil on canvas, 30 1/16 x 48 1/8 in.
Sterling and Francine Clark Art Institute, Williamstown, Massachusetts

Winslow Homer
Eastern Point, 1900
Oil on canvas, 30 1/4 x 48 1/2 in.
Sterling and Francine Clark Art Institute, Williamstown, Massachusetts

Edouard Manet
Interior at Arcachon, 1871
Oil on canvas, 15 1/2 x 21 1/8 in.
Sterling and Francine Clark Art Institute, Williamstown, Massachusetts

Claude Monet
Tulip Fields at Sassenheim, near Leiden, 1886
Oil on canvas, 23 1/2 x 28 13/16 in.
Sterling and Francine Clark Art Institute, Williamstown, Massachusetts

Berthe Morisot
The Bath (Girl Arranging Her Hair), 1885–86
Oil on canvas, 35 7/8 x 28 7/16 in.
Sterling and Francine Clark Art Institute, Williamstown, Massachusetts

Camille Pissarro
The River Oise near Pontoise, 1873
Oil on canvas, 17 13/16 x 21 5/8 in.
Sterling and Francine Clark Art Institute, Williamstown, Massachusetts

Frederic Remington
The Scout: Friends or Foes, 1900–05
Oil on canvas, 27 x 40 in.
Sterling and Francine Clark Art Institute, Williamstown, Massachusetts

Pierre-Auguste Renoir
A Girl Crocheting, c. 1875
Oil on canvas, 28 7/8 x 23 13/16 in.
Sterling and Francine Clark Art Institute, Williamstown, Massachusetts

Pierre-Auguste Renoir
Self Portrait, c.1875
Oil on canvas, 15 3/8 x 12 1/2 in.
Sterling and Francine Clark Art Institute, Williamstown, Massachusetts

Pierre-Auguste Renoir
Thérèse Bérard, 1879
Oil on canvas, 22 x 18 7/8 in.
Sterling and Francine Clark Art Institute, Williamstown, Massachusetts

Pierre-Auguste Renoir
At the Concert, 1880
Oil on canvas, 39 1/16 x 31 3/4 in.
Sterling and Francine Clark Art Institute, Williamstown, Massachusetts

Pierre-Auguste Renoir
Sleeping Girl with a Cat, 1880
Oil on canvas, 47 1/4 x 36 5/16 in.
Sterling and Francine Clark Art Institute, Williamstown, Massachusetts

Pierre-Auguste Renoir
Blonde Bather, 1881
Oil on canvas, 32 3/16 x 25 7/8 in.
Sterling and Francine Clark Art Institute, Williamstown, Massachusetts

Pierre-Auguste Renoir
The Onions, 1881
Oil on canvas, 15 3/8 x 23 7/8 in.
Sterling and Francine Clark Art Institute, Williamstown, Massachusetts

Pierre-Auguste Renoir
Studies of The Berard Children, 1881
Oil on canvas, 24 5/8 x 32 1/4 in.
Sterling and Francine Clark Art Institute, Williamstown, Massachusetts

Pierre-Auguste Renoir
Apples in a Dish, 1883
Oil on canvas, 21 3/16 x 25 9/16 in.
Sterling and Francine Clark Art Institute, Williamstown, Massachusetts

Auguste Rodin
Man with a Serpent, 1885
Bronze, h. 27 1/2 in.
Private Collection

Auguste Rodin
Man with a Serpent, 1885
Plaster, h. 27 1/2 in.
Sterling and Francine Clark Art Institute, Williamstown, Massachusetts

John Singer Sargent
Resting, c. 1875
Oil on canvas, 8 1/2 x 10 9/16 in.
Sterling and Francine Clark Art Institute, Williamstown, Massachusetts

John Singer Sargent
A Venetian Interior, c. 1880–82
Oil on canvas, 19 1/16 x 23 15/16 in.
Sterling and Francine Clark Art Institute, Williamstown, Massachusetts

John Singer Sargent
Street in Venice, 1880–82
Oil on canvas, 29 9/16 x 20 5/8 in.
Sterling and Francine Clark Art Institute, Williamstown, Massachusetts

John Singer Sargent
Portrait of Carolus Duran, 1879
Oil on canvas, 46 x 37 13/16 in.
Sterling and Francine Clark Art Institute, Williamstown, Massachusetts

Alfred Sisley
Apples and Grapes in a Basket, c. 1876
Oil on canvas, 18 1/8 x 24 1/6 in.
Sterling and Francine Clark Art Institute, Williamstown, Massachusetts

Henri de Toulouse-Lautrec
Jane Avril, c. 1891–92
Oil on cardboard, on panel, 24 7/8 x 16 5/8 in.
Sterling and Francine Clark Art Institute, Williamstown, Massachusetts
Works Acquired by Stephen Clark

Thomas Anshutz
The Ironworkers' Noontime, 1880
Oil on canvas, 17 x 23 7/8 in.
The Fine Arts Museums of San Francisco. Gift of Mr. and Mrs. John D. Rockefeller, 3rd

Paul Cézanne
The Card Players, early 1880s
Oil on canvas, 25 3/4 x 32 1/4 in.
The Metropolitan Museum of Art, New York. Bequest of Stephen C. Clark, 1960

Paul Cézanne
Still Life with Apples and Pears, 1885–1887
Oil on canvas, 17 5/8 x 23 1/8 in.
The Metropolitan Museum of Art, New York. Bequest of Stephen C. Clark, 1960

Paul Cézanne
Still Life with a Ginger Jar and Eggplants, 1890–94
Oil on canvas, 28 1/2 x 36 in.
The Metropolitan Museum of Art, New York. Bequest of Stephen C. Clark, 1960

Paul Cézanne
The Pool at the Jas de Bouffan, late 1880s
Oil on canvas, 25 1/2 x 31 7/8 in.
The Metropolitan Museum of Art, New York. Bequest of Stephen C. Clark, 1960

Camille Corot
The Harbor of La Rochelle, 1851
Oil on canvas, 19 7/8 x 28 1/4 in.
Yale University Art Gallery, New Haven, Connecticut. Bequest of Stephen Carlton Clark, B.A. 1903

Edgar Degas
Self Portrait, c.1854
Oil on paper, laid down on canvas, 16 x 13 1/2 in.
The Metropolitan Museum of Art, New York. Bequest of Stephen C. Clark, 1960

Thomas Eakins
Professor Henry A. Rowland, 1897
Oil on canvas, 80 1/4 x 54 in.
Addison Gallery of American Art, Andover, Massachusetts. Gift of Stephen C. Clark, Esq.

Thomas Eakins
Dr. Agnew (Dr. D. Hayes Agnew, 1818–1892), c.1889
Oil on canvas, 49 x 31 1/2 in.
Yale University Art Gallery, New Haven, Connecticut. Bequest of Stephen Carlton Clark, B.A. 1903

Thomas Eakins
Cowboys in the Badlands, 1888
Oil on canvas, 32 1/4 x 45 in.
Courtesy of The Anschutz Collection

Vincent van Gogh
The Night Café, 1888
Oil on Canvas, 28 1/2 x 36 1/4 in.
Yale University Art Gallery, New Haven, Connecticut. Bequest of Stephen Carlton Clark, B.A. 1903

Winslow Homer
Hound and Hunter, 1892
Oil on canvas, 28 1/4 x 48 1/8 in.
National Gallery of Art, Washington D.C. Gift of Stephen C. Clark

Winslow Homer
Weaning the Calf, 1875
Oil on canvas, 24 x 38 in.
North Carolina Museum of Art, Raleigh. Purchased by State of North Carolina

Winslow Homer
The Dinner Horn, 1873
Oil on canvas, 11 7/8 x 14 1/4 in.
Detroit Institute of Arts. Gift of Dexter M. Ferry, Jr., 1947

Edward Hopper
Manhattan Bridge Loop, 1928
Oil on canvas, 35 x 60 in.
Addison Gallery of American Art, Phillips Academy, Andover, Massachusetts. Gift of Stephen C. Clark, Esq.

Edward Hopper
House by the Railroad, 1925
Oil on canvas, 24 x 29 in.
The Museum of Modern Art, New York. Given anonymously

Edward Hopper
Western Motel, 1957
Oil on canvas, 30 1/4 x 50 1/8 in.
Yale University Art Gallery, New Haven, Connecticut. Bequest of Stephen Carlton Clark, B.A. 1903

George Inness
The Monk, 1873
Oil on canvas, 38 9/16 x 64 1/8 in.
Addison Gallery of American Art, Phillips Academy, Andover, Massachusetts. Gift of Stephen C. Clark in recognition of the 25th Anniversary of the Addison Gallery

Edouard Manet
Young Woman Reclining in Spanish Costume, 1862–63
Oil on canvas, 37 1/4 x 44 3/4 in.
Yale University Art Gallery, New Haven, Connecticut. Bequest of Stephen Carlton Clark, B.A. 1903

Henri Matisse
Seated Odalisque, 1924
Oil on canvas, 28 3/4 x 23 5/8 in.
The Metropolitan Museum of Art, New York. Gift of Adele R. Levy Fund, 1962

Henri Matisse
Seated Woman, Back Turned to the Open Window, c. 1922
Oil on canvas, 28 3/4 x 36 1/4 in.
Montreal Museum of Fine Arts. Purchase, John W. Tempest Fund

Henri Matisse
The Three O'Clock Sitting, 1924
Oil on canvas, 36 1/4 x 28 3/4 in.
Private collection

Pablo Picasso
Dog and Cock, 1921
Oil on canvas, 61 x 30 1/8 in.
Yale University Art Gallery, New Haven, Connecticut. Gift of Stephen Carlton Clark, B.A. 1903

Pablo Picasso
Seated Woman, 1926–27
Oil on canvas, 51 1/2 x 38 1/2 in.
Art Gallery of Ontario, Toronto. Purchase with assistance from the Women's Committee and anonymous contributions, 1964

Frederic Remington
Indian Scouts at Evening, c. 1906
Oil on canvas, 25 1/2 x 19 1/2 in.
Collection of Jane Forbes Clark

Pierre-Auguste Renoir
Madame Henriot in Costume, 1875–76
Oil on canvas, 63 1/2 x 41 1/4 in.
Columbus Museum of Art, Museum Purchase, Howald Fund

Pierre-Auguste Renoir
Still Life with Peaches, 1881
Oil on canvas, 21 x 25 1/2 in.
The Metropolitan Museum of Art, New York. Bequest of Stephen C. Clark, 1960

Pierre-Auguste Renoir
A Waitress at Duval's Restaurant, c. 1875
Oil on canvas, 39 1/2 x 28 1/8 in.
The Metropolitan Museum of Art, New York. Bequest of Stephen C. Clark, 1960

Pierre-Auguste Renoir
Marguerite-Thérèse (Margot) Berard, 1879
Oil on canvas, 16 1/8 x 12 3/4 in.
The Metropolitan Museum of Art, New York. Bequest of Stephen C. Clark, 1960

Georges-Pierre Seurat
Study for "Bathers at Asnières", 1883
Oil on wood, 6 7/8 x 10 3/8 in.
Nelson-Atkins Museum of Art, Kansas City, Missouri. Purchase, Nelson Trust

Édouard Vuillard
Interior, The Dressmaking Room, 1893
Oil on canvas, 16 x 13 in.
Collection of Jane Forbes Clark

Édouard Vuillard
Madame Vuillard's Dressmaking Studio, 1892
Oil on canvas, 13 1/2 x 9 1/2 in.
Collection of Jane Forbes Clark
Works Acquired by the Clark Family

Robert Blum
Venetian Lace Makers, 1887
Oil on canvas, 30 1/8 x 41 1/4 in.
Cincinnati Art Museum. Gift of Elizabeth S. Potter

John Ferneley
Duchess, 1831
Oil on canvas, 33 7/8 x 42 3/8 in.
Sterling and Francine Clark Art Institute, Williamstown, Massachusetts

Jean-Léon Gérôme
The Snake Charmer, c. 1870
Oil on canvas, 33 x 48 1/16 in.
Sterling and Francine Clark Art Institute, Williamstown, Massachusetts

Jean-Léon Gérôme
Pollice Verso (Thumbs Down), 1872
Oil on canvas, 38 x 58 3/4 in.
Phoenix Art Museum. Museum Purchase

Ben Marshall
"Godolphin" and His Cat, 1822
Oil on canvas, 34 x 40 in.
Collection of Jane Forbes Clark

Jean-François Millet
Woman with a Rake, probably 1856–7
Oil on canvas, 15 5/8 x 13 1/2 in.
The Metropolitan Museum of Art, New York. Gift of Stephen C. Clark, 1938

Jean-François Millet
Summer, The Gleaners, after March 1853
Oil on canvas, 15 x 12 in.
Museum of Fine Arts, Springfield, Massachusetts. The James Philip Gray Collection

Alfred J. Munnings
Solario, 1926
Oil on board, 16 15/16 x 20 in.
Sterling and Francine Clark Art Institute, Williamstown, Massachusetts

William Orpen
Portrait of Stephen Clark c. 1921
Oil on canvas, 37 x 30 in.
Collection of Jane Forbes Clark

William Orpen
Portrait of Susan Clark c. 1921
Oil on canvas, 41 x 30 in.
Collection of Jane Forbes Clark

William Orpen
Portrait of Robert Sterling Clark, 1921–22
Oil on canvas, 40 1/8 x 29 1/2 in.
Sterling and Francine Clark Art Institute, Williamstown, Massachusetts

William Orpen
Portrait of Francine Clark, 1921–22
Oil on canvas, 40 1/8 x 30 1/8 in.
Sterling and Francine Clark Art Institute, Williamstown, Massachusetts

George Stubbs
The Second Horseman, 1789
Oil on panel, 21 1/2 x 29 in.
Collection of Jane Forbes Clark

George Stubbs
The Heavyweight Hunter, n.d.
Oil on canvas, 24 x 28 in.
Collection of Jane Forbes Clark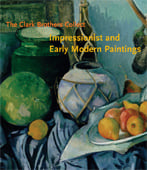 The Clark Brothers Collect
Impressionist and Early Modern Paintings
Michael Conforti, James A. Ganz, Neil Harris, Sarah Lees, and Gilbert T. Vincent
With additional contributions by Daniel Cohen-McFall, Mari Yoko Hara, Susannah Maurer, Kathleen M. Morris, Kathryn Price, Richard Rand, and Marc Simpson

This meticulously researched and handsomely produced volume accompanies the exhibition and explores the superlative collections of brothers Sterling and Stephen Clark. Detailed biographical essays are complemented by discussions of specific artists and paintings that Sterling and Stephen collected, offering new insights into the brothers' personal lives and public profiles, and situating them within the history of American museums and philanthropy. Featuring more than three hundred archival photographs and illustrations of the works from their collections, the book also includes an illustrated chronology and a previously unpublished checklist of works purchased by these two influential yet relatively unknown collectors.
384 pages, 9 ½ x 11 inches
149 color, 64 quadratone, and 130 halftone illustrations
2006
Published by the Sterling and Francine Clark Art Institute, and distributed by Yale University Press, New Haven and London
ISBN 0-931102-65-0 (softcover)
ISBN 0-300-11619-5 (hardcover