Rodin in the United States:
Confronting the Modern
June 18, 2022–September 18, 2022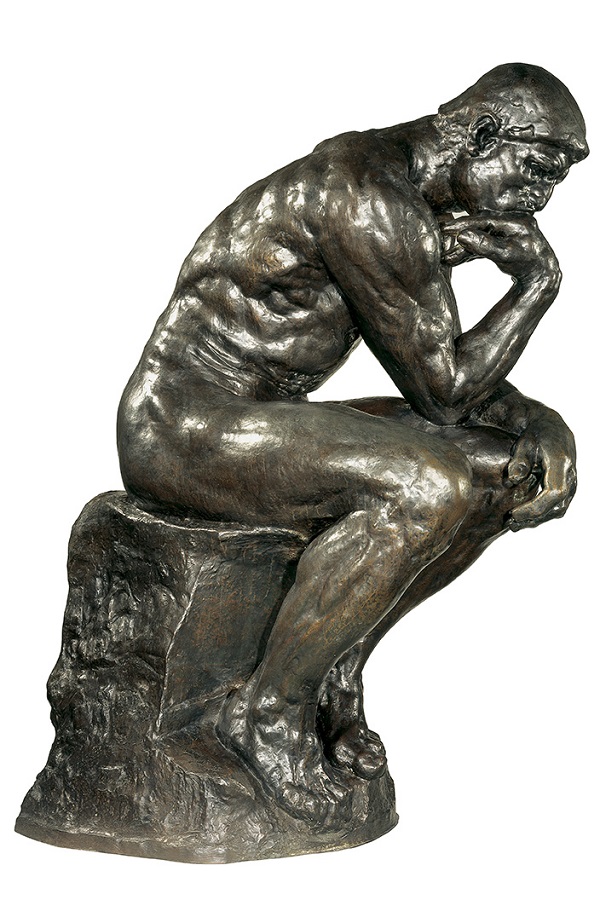 Auguste Rodin
The Thinker
Original model 1881–82, enlarged 1903, cast 1928
Bronze
79 × 37 3/4 × 59 in
The Baltimore Museum of Art: The Jacob Epstein Collection; 1930.25.1
Rodin in the United States: Confronting the Modern considers the artist's legacy in America from 1893 to the present. While there has been much consideration of Auguste Rodin's (1840–1917) reputation in France and throughout Europe, less attention has been paid to his reception in America. This exhibition tells the story of the collectors, art historians, critics, gallerists, and philanthropists—notably, many of whom were women —who endeavored to make Rodin known in the United States. The nearly 1,300 works by Rodin held in American museums and private collections today testifies to their success.
The exhibition explores shifting perceptions of the sculptor, beginning with the first acquisition of a work by Rodin by an American institution—The Metropolitan Museum of Art in 1893—and Rodin's controversial debut at Chicago's World's Columbian Exposition in the same year. The exhibition examines the collecting frenzy of the early twentieth century, promoted by philanthropist Katherine Seney Simpson, performer Loïe Fuller, and collector Alma de Bretteville Spreckels. The role of museums in promoting and preserving Rodin's work in the 1920s and 1930s is also explored, including the establishment of the Rodin Museum in Philadelphia. The enthusiasm of the early decades of the twentieth century was countered in the 1940s and 1950s, when, in the words of art historian Leo Steinberg, Rodin's reputation was "in full decline." The fervent celebration of Rodin in the 1980s, with blockbuster exhibitions and new scholarship, signaled another shift in the appreciation of Rodin's sculptures and drawings. The exhibition concludes with exceptional works acquired by collectors and institutions from the late twentieth century to today.
Rodin in the United States: Confronting the Modern includes approximately fifty sculptures and twenty-five drawings, presenting both the artist's familiar masterpieces and lesser-known works of the highest quality. By viewing these objects through the lens of various collectors, art historians, and museums—as well as each successive historical moment—visitors will be able to better understand how collections are built, how histories are constructed, and how an artist becomes a household name. The exhibition emphasizes Rodin's expertise across materials and media, with prominent examples of plaster, bronze, marble, graphite, and watercolor.
The exhibition is organized by the Clark Art Institute and guest curated by independent scholar Antoinette Le Normand-Romain.

This exhibition is made possible by Denise Littlefield Sobel and Diane and Andreas Halvorsen. Major funding is provided by the Acquavella Family Foundation, with additional support from Jeannene Booher, Robert D. Kraus, the Robert Lehman Foundation, Carol and Richard Seltzer, and the Malcolm Hewitt Wiener Foundation. This exhibition is supported by an indemnity from the Federal Council on the Arts and the Humanities.