Promenades on Paper
Eighteenth-Century French Drawings from the Bibliothèque nationale de France
December 17, 2022–March 12, 2023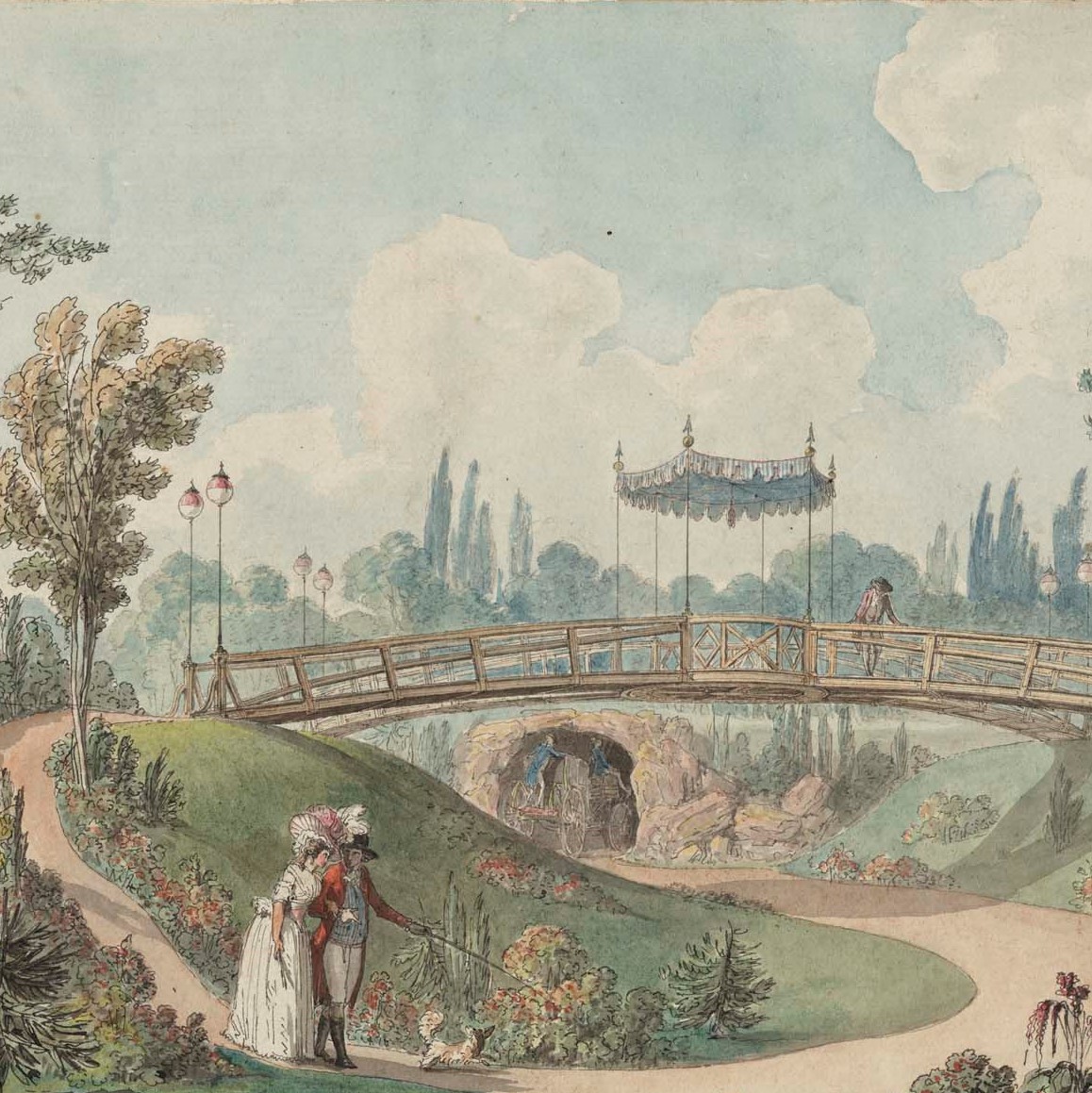 François-Joseph Bélanger
The Garden of Beaumarchais
1788. Watercolor and pen and ink. Bibliothèque nationale de France
In partnership with the Bibliothèque nationale de France (BnF), the Clark is organizing the first exhibition of the library's eighteenth-century French drawings. The selection of eighty-six enchanting studies, architectural plans, albums, sketchbooks, prints, and optical devices expands our understanding of drawing as a tool of documentation and creation in the age of Enlightenment, spanning the domains of natural history, current events, theater design, landscape, and portraiture. Displayed together, these objects immerse audiences in the world of eighteenth-century France—a world shaped by invention, erudition, and spectacle. Works by celebrated artists of the period such as François Boucher (1703–1770) and Gabriel de Saint-Aubin (1724–1780) are featured alongside exquisite drawings by lesser-known practitioners, including talented women, royal children, and visionary architects.

Promenades on Paper: Eighteenth-Century French Drawings from the Bibliothèque nationale de France is co-organized by the Clark Art Institute, Williamstown, Massachusetts, and the Bibliothèque nationale de France, Paris. It is curated by Esther Bell, Deputy Director and Robert and Martha Berman Lipp Chief Curator; Sarah Grandin, Clark-Getty Curatorial Fellow; and Anne Leonard, Manton Curator of Prints, Drawings, and Photographs from the Clark, and by Corinne Le Bitouzé, Conservateur général; Pauline Chougnet, Conservateur en charge des dessins; and Chloé Perrot, Conservateur des bibliothèques from the Bibliothèque nationale.

This exhibition is made possible by Jessie and Charles Price. Major funding is provided by Elizabeth M. and Jean-Marie Eveillard, the Getty Foundation through its Paper Project initiative, and the Samuel H. Kress Foundation. The exhibition catalogue is made possible by Denise Littlefield Sobel.