Claude & François-Xavier Lalanne
Nature Transformed
May 8, 2021–October 31, 2021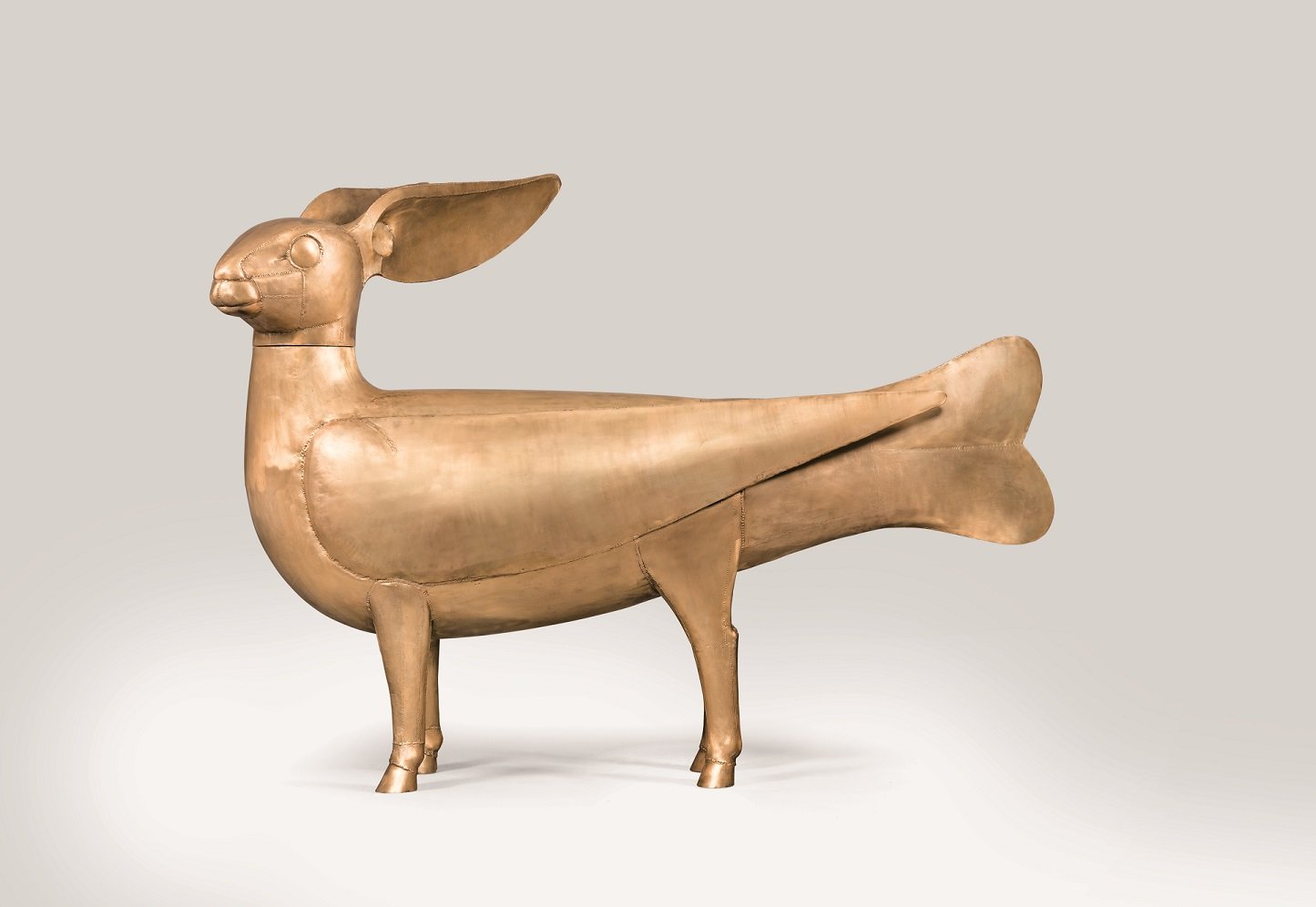 François-Xavier Lalanne
Lapin à vent (Wind rabbit)
1994/2004
Gilt patinated bronze, ball bearings. 70 7/8 x 100 3/8 x 18 1/2 in.
Private Collection. Image: Nicolas Dubois / Art Digital Studio © Sotheby's; Artwork: © 2020 Artists Rights Society (ARS), New York / ADAGP, Paris

It has been more than forty years since an American art museum has shown the work of sculptors Claude and François-Xavier Lalanne, and the Clark's exhibition this summer provides a fresh perspective on these innovative artists. Their imaginative and powerful sculptures have long delighted international audiences and collectors. During their remarkable careers, the married artists worked and exhibited together, often under the joint name "Les Lalanne," although they seldom collaborated on objects.

Common to both artists was their abiding interest in nature. From their earliest exhibition in 1964, entitled Zoophites, a reference to objects with a mixture of animal and plant characteristics, the artists repeatedly drew inspiration from flora and fauna and morphed these natural forms into something strange and new. In her works, Claude Lalanne (1924–2019) transformed familiar plants and animals into lyrical and sometimes surreal creations while François-Xavier Lalanne (1927–2008) turned his fascination with the mysterious inner life of animals into abstracted and refined sculptural forms that often concealed a practical function. In the work of both Claude and François-Xavier Lalanne, artistic vision bends natural forms to new uses.

The Clark is the sole venue for this exhibition, which also marks the first museum presentation of the artists' work since the 2019 death of Claude Lalanne. Nature Transformed features an equal number of objects by each artist from across their long careers, revealing the power of their artistic imagination, their impressive command of technique, and their enduring visual appeal. The works include sculpture and furniture by both artists and a selection of Claude Lalanne's wildly inventive flatware and jewelry.

Claude & François-Xavier Lalanne: Nature Transformed is organized by the Clark Art Institute and curated by Kathleen M. Morris, Marx Director of Collections and Exhibitions and curator of decorative arts.

Major support for Claude & François-Xavier Lalanne: Nature Transformed is provided by Denise Littlefield Sobel. Significant funding is provided by Sylvia and Leonard Marx and by the Kenneth C. Griffin Charitable Fund, with additional support from Jeannene Booher, Agnes Gund, and Robert D. Kraus. The exhibition catalogue has been published with the generous support of Denise Littlefield Sobel, with additional support from the Kenneth C. Griffin Charitable Fund and Furthermore: a program of the J.M. Kaplan Fund.