Erin Shirreff
Remainders
January 16, 2021–January 2, 2022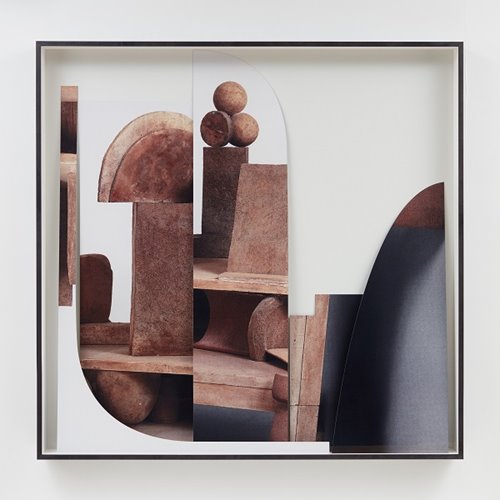 Erin Shirreff (Canadian, b. 1975)
Four-color café terrace (Caro, –––––, Moorhouse, Matisse)
2019.
Dye sublimation prints on aluminum and archival pigment print, 72 x 73 3/4 in. (182.9 x 187.3 cm).
Edition of 4.
Courtesy of Sikkema Jenkins & Co., New York.

This yearlong exhibition in public spaces around the Clark examines Erin Shirreff's practice—between analog and digital media, two and three dimensions, and still and moving images—and its fascination with the mythmaking behind art history. Through photographic manipulations of sculptures found in books, and ones of her own making, Shirreff asks what is left of the original experience of an artwork once it has entered the historical record, and what traces of an artist's labor might still be legible after the fact. The exhibition includes photographs on paper and aluminum that have been creased and cut, to take on sculptural dimensions, as well as the artist's video work. Shirreff's painstaking process encourages slow looking, forensic attention to detail, and an appreciation that things may not be quite as they appear.

Erin Shirreff was born in 1975 in Kelowna, British Columbia and currently lives and works in Montreal. She holds a BFA in visual arts from the University of Victoria, British Columbia, and an MFA in sculpture from Yale University. She has recently been the subject of solo exhibitions at the San Francisco Museum of Modern Art; Kunsthalle Basel; the Institute of Contemporary Art, Boston; and Albright-Knox Gallery.

This exhibition is organized by the Clark Art Institute and curated by Robert Wiesenberger, associate curator of contemporary projects. Erin Shirreff's work is courtesy of the artist; Sikkema Jenkins & Co., New York; and Bradley Ertaskiran, Montreal.