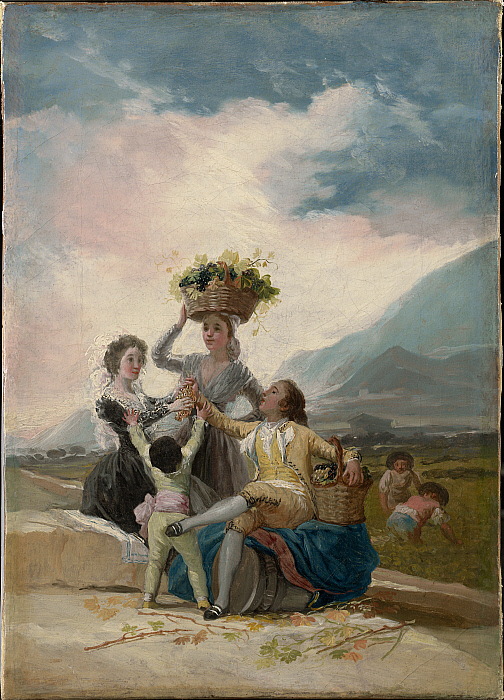 Francisco de Goya
Spanish, 1746–1828
Autumn
1786
In 1786, Goya was commissioned to design tapestries to decorate the dining room in Madrid's El Pardo palace. The king specifically requested "pleasant, light-hearted subjects," and this painting, a sketch for one of the tapestries, was presented for his approval. A child reaches for a bunch of grapes that a young man in a stylish yellow suit offers to a lady dressed in black. Behind them, a servant balances a basket of grapes on her head—she personifies Autumn, the season of plentiful harvests.
| | |
| --- | --- |
| Medium | Oil on canvas |
| Dimensions | 13 3/8 x 9 9/16 in. (34 x 24.3 cm) Frame: 16 1/4 x 12 1/4 in. (41.3 x 31.1 cm) |
| Object Number | 1955.749 |
| Acquisition | Acquired by Sterling and Francine Clark, 1939 |
| Status | On View |
Image Caption
Francisco de Goya, Autumn, 1786, Oil on canvas. The Clark Art Institute, 1955.749.
Bibliography
Lees, Sarah, ed. Nineteenth-Century European Paintings at the Sterling and Francine Clark Art Institute. Williamstown, MA: Sterling and Francine Clark Art Institute; New Haven and London: distributed by Yale University Press, 2012. Tinterow, Gary and Geneviève Lacambre. Manet/Valázquez: The French Taste for Spanish Painting. Exhibition catalogue. New York and New Haven: The Metropolitan Museum of Art in association with Yale University Press, 2003.
Provenance
The artist, sold to Alcántara, 1798; Pedro and María Josefa de Alcántara, 9th Duke and Duchess of Osuna, La Alameda, Madrid (from 1798); Baron Charles-Jean-Marie Alquier, Madrid and Versailles (probably by 1800; d. 1826); Baron [René?] Alquier, Nantes, by descent (from 1826); Alquier family, Nantes, by descent, sold to Knoedler, probably in 1939; [Knoedler, New York, sold to Clark, 1 Mar. 1939]; Robert Sterling Clark (1939–55); Sterling and Francine Clark Art Institute, 1955.
Related