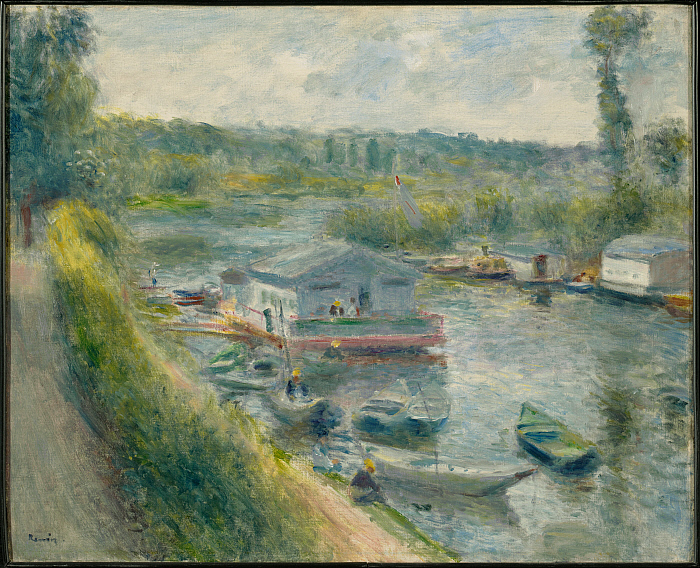 Pierre-Auguste Renoir
French, 1841–1919
Wash-House Boat at Bas-Meudon
c. 1874
At the center of this painting is a lavoir, or wash-house boat, where France's working classes could wash laundry. The vessel is positioned on a stretch of the River Seine in Meudon, a town famous as the site of one of Louis XIV's palaces. Rather than emphasizing the town's historic significance, Renoir focused on a scene from contemporary life and painted the water, trees, boats, and figures with uniformly thin brushstrokes, producing a quintessentially modern landscape.
| | |
| --- | --- |
| Medium | Oil on canvas |
| Dimensions | 19 11/16 x 24 in. (50 x 61 cm) Frame: 27 x 31 x 4 3/8 in. (68.6 x 78.7 x 11.1 cm) |
| Object Number | 1955.610 |
| Acquisition | Acquired by Sterling and Francine Clark, 1937 |
| Status | On View |
Image Caption
Pierre-Auguste Renoir, Wash-House Boat at Bas-Meudon, c. 1874, Oil on canvas. The Clark Art Institute, 1955.610.
Bibliography
Lees, Sarah, ed. Nineteenth-Century European Paintings at the Sterling and Francine Clark Art Institute. Williamstown, MA: Sterling and Francine Clark Art Institute; New Haven and London: distributed by Yale University Press, 2012.
Provenance
[Possibly Durand-Ruel, Paris];¹ Anna Thompson (until 1909, sold to Durand-Ruel, New York, 17 Apr. 1909); [Durand-Ruel, New York, 1909–37, sold to Clark, 10 Apr. 1937]; Robert Sterling Clark (1937–55); Sterling and Francine Clark Art Institute, 1955.

1. Caroline Durand-Ruel Godfroy indicated that gallery records list a Durand-Ruel photo no. 88 of this painting. This suggests that the photograph is quite old, and it in turn implies that Durand-Ruel may have owned the painting at an early date, prior to its entering the Thompson collection. See correspondence dated 24 April 2001, in the Clark's curatorial file. It is possible that this painting was deposited by the artist with Durand-Ruel on 8 Dec. 1888, deposit no. 6635, and purchased on 4 Oct. 1890, stock no. 659, titled La Seine à Bas Meudon, but information in the Durand-Ruel Archives, along with labels on the painting reverse, is inconclusive.
Related