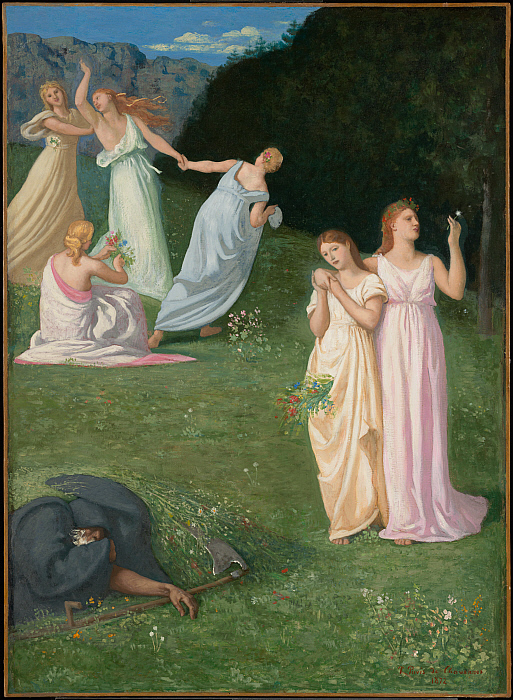 Pierre Puvis De Chavannes
French, 1824–1898
Death and the Maidens
1872
Puvis's painting shows maidens gathering flowers and frolicking in a meadow. Some seem carefree while others are more contemplative, though none of them seems to have noticed the figure of the Grim Reaper, sleeping in the lower left of the composition. Meditations on mortality like this one were popular at the time. Puvis's treatment of the subject—with its vertical composition and muted palette—differentiate this painting from other variations on the theme.
| | |
| --- | --- |
| Medium | oil on canvas |
| Dimensions | 57 5/8 x 46 1/8 in. (146.4 x 117.2 cm) Frame: 69 3/8 x 53 7/8 x 3 in. (176.2 x 136.8 x 7.6 cm) |
| Object Number | 1955.54 |
| Acquisition | Acquired by Sterling and Francine Clark before 1955 |
| Status | Off View |
Image Caption
Pierre Puvis De Chavannes, Death and the Maidens, 1872, oil on canvas. Clark Art Institute, 1955.54
Provenance
[Durand-Ruel, Paris, by 1873]; Catholina Lambert, Paterson, New Jersey (by 1894); [Scott & Fowles, New York]; [Durand-Ruel, New York, sold to Hill, 1912]; James J. Hill, Saint Paul (1912–possibly until d. 1916);¹ [Knoedler, New York, sold to Clark, 29 Nov. 1918]; Robert Sterling Clark (1918–55); Sterling and Francine Clark Art Institute, 1955. 1. Hill died intestate; his collection of 83 paintings was inherited by his widow and their children and divided among them. Hill's papers held at the Minnesota Historical Society do not mention this painting among works included in the division of the estate, however, suggesting that he may have sold it prior to his death. See correspondence in the curatorial files.
Related