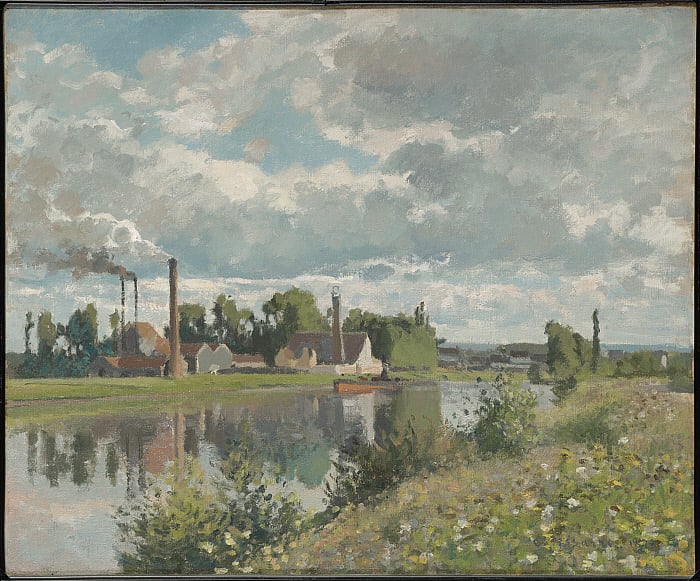 Camille Pissarro
French, 1830–1903
The River Oise near Pontoise
1873
Pissarro made several paintings featuring the factory located across the river from his home in Pontoise. Although the buildings caused considerable changes to the landscape and river, the artist presents them here as harmoniously integrated into the setting. The artist's technique—his use of quick touches of color to record the brilliant light and the flowers in the foreground—is as modern as his subject matter.
| | |
| --- | --- |
| Medium | oil on canvas |
| Dimensions | 18 1/8 x 21 15/16 in. (46 x 55.7 cm) Frame: 26 7/8 x 30 1/2 x 3 3/8 in. (68.3 x 77.5 x 8.6 cm) |
| Object Number | 1955.554 |
| Acquisition | Acquired by Sterling and Francine Clark before 1955 |
| Status | On View |
Image Caption
Camille Pissarro, The River Oise near Pontoise, 1873, oil on canvas. Clark Art Institute, 1955.554
Provenance
Maurice Rémy, Paris (in 1928);¹ Édition Garcin, Paris (by 1936); [Jacques Lindon, New York, probably by Sept. 1941, sold to Salz];² [Sam Salz, New York, sold to Durand-Ruel, 3 Dec. 1942.]; [Durand-Ruel, New York, sold to Clark, 3 Feb. 1945]; Robert Sterling Clark (1945–55); Sterling and Francine Clark Art Institute, 1955. 1. In a letter to the Clark dated 28 Aug. 1979, Charles Durand-Ruel states that this painting was deposited with Durand-Ruel Paris on 28 Feb. 1928 by "a Mr. Rémy, and returned to him after being photographed." He also notes that Durand-Ruel, New York, bought the painting from Sam Salz in 1942 and sold it to Clark in 1945. There is no invoice from Durand-Ruel to Clark for this painting. 2. According to the New York Times, the Gallery of Modern Art opened in Sept. 1941 with Jacques Lindon as its president. The initial display included a painting by Pissarro called Bank of Oise, which is likely to be the Clark painting. See Edward Alden Jewell, "Modern Gallery Shows Varied Art," New York Times, 17 Sept. 1941, p. 26.
Related