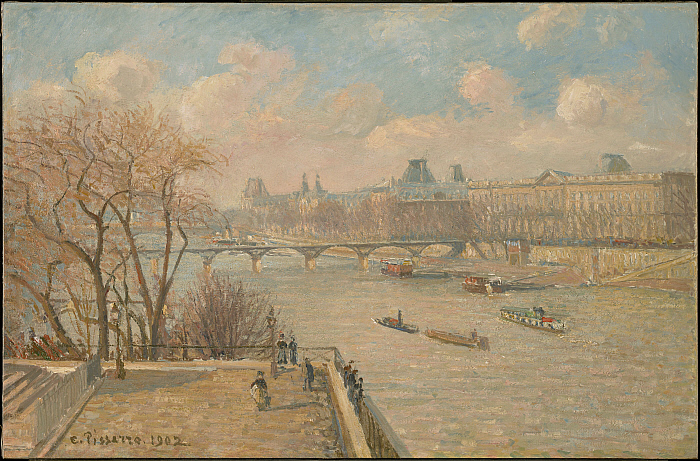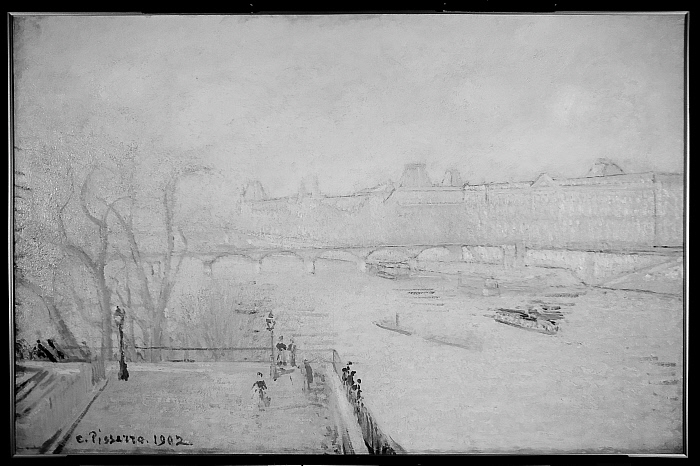 Camille Pissarro
French, 1830–1903
The Louvre from the Pont Neuf
1902
For several years, Pissarro rented an apartment on the Île de la Cité in the heart of Paris. He painted a series of cityscapes from his window, recording boats on the river, people at work or leisure on the terrace below, and the imposing presence of the Musée du Louvre on the opposite bank. The artist strove to render what he described as Paris's "silvery atmosphere," exploring the effects of light in varied weather and in different seasons.
| | |
| --- | --- |
| Medium | oil on canvas |
| Dimensions | 23 15/16 x 36 7/16 in. (60.8 x 92.5 cm) Frame: 32 11/16 x 45 5/16 in. (83 x 115.1 cm) |
| Object Number | 1955.558 |
| Acquisition | Acquired by Sterling and Francine Clark before 1955 |
| Status | On View |
Image Caption
Camille Pissarro, The Louvre from the Pont Neuf, 1902, oil on canvas. Clark Art Institute, 1955.558
Provenance
Pieter Van der Velde, Le Havre (until c. 1917);¹ [Paul Rosenberg, Paris, by 1917];² Marquis C. de Rochecouste, Paris, sold to Wisselingh, 1929; [E. J. van Wisselingh & Co., Amsterdam, 1929–37, sold to A. Raiss];³ A. Raiss, from 1937; Mrs. Grossi, Cairo; Virginia R. Popper, New York, sold to Knoedler, 25 Feb. 1950; [Knoedler, New York, sold to Clark, 31 March 1950]; Robert Sterling Clark (1950–55); Sterling and Francine Clark Art Institute, 1955. 1. Rodolphe Walter states that Van der Velde sold some paintings from his collection "after the war of 1914–18," and that at his death in February 1922, he owned 14 Pissarro paintings, but he does not specifically mention this work; see Rodolphe Walter, "Pieter van de Velde: un amateur éclairé," Gazette des Beaux Arts, vol. 72 (Oct. 1968), p. 204. 2. According to information in the Paul Rosenberg Archives, this painting had been acquired by 1917, based on a list of works photographed (The Paul Rosenberg Archives, a gift of Elaine and Alexandre Rosenberg. The Museum of Modern Art Archives, New York). 3. According to Joachim Pissarro and Claire Durand-Ruel Snollaerts, Pissarro: Critical Catalogue of Paintings, 2005, vol. 3, p. 868.
Related