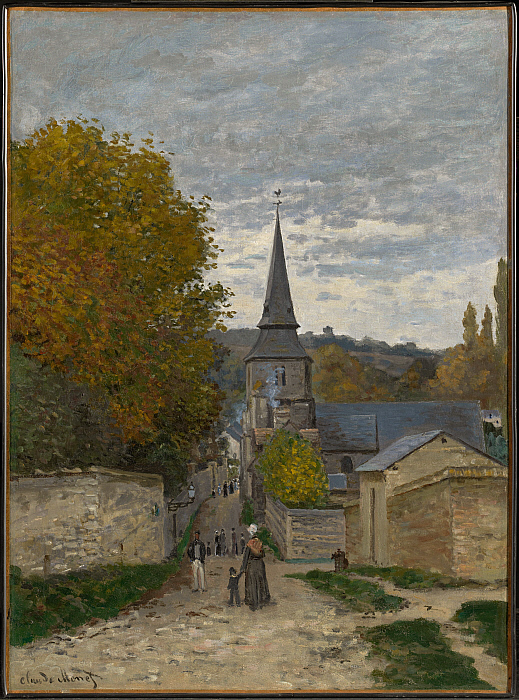 Claude Monet
French, 1840–1926
Street in Sainte-Adresse
1867
Monet grew up in Le Havre, Normandy, and in later years, he often painted the beach at Sainte-Adresse, a small fishing village nearby. In this scene, he turns his attention to the town itself. A woman and child look down a sloping street, which draws our eyes to other figures disappearing around a corner. Light plays off cobblestones, walls, and roofs, revealing curling plumes of blue-gray smoke rising from chimneys into the air.
| | |
| --- | --- |
| Medium | Oil on canvas |
| Dimensions | 31 1/2 x 23 5/16 in. (80 x 59.2 cm) Frame: 40 7/8 x 32 7/8 x 3 3/4 in. (103.8 x 83.5 x 9.5 cm) |
| Object Number | 1955.523 |
| Acquisition | Acquired by Sterling and Francine Clark, 1952 |
| Status | On View |
Image Caption
Claude Monet, Street in Sainte-Adresse, 1867, Oil on canvas. The Clark Art Institute, 1955.523.
Bibliography
Lees, Sarah, ed. Nineteenth-Century European Paintings at the Sterling and Francine Clark Art Institute. Williamstown, MA: Sterling and Francine Clark Art Institute; New Haven and London: distributed by Yale University Press, 2012.
Provenance
Browne, Paris; [Étienne Bignou, Paris]; [probably Galerien Thannhauser (Justin K. Thannhauser), Berlin, by 1928]; Josef Stransky, New York (by 1931–d. 1936); Estate of Josef Stransky (1936–at least 1945)¹; [Wildenstein, New York]; André Meyer, New York; [Knoedler, New York, sold to Clark, 5 May 1952, as Rue à Fecamp]; Robert Sterling Clark (1952–1955); Sterling and Francine Clark Art Institute, 1955.

1. Perry B. Cott, "The Stransky Collection of Modern Art," Bulletin of the Worcester Art Museum, Winter 1933, p. 147, stated that the Stransky collection would be on loan to the Worcester Art Museum for eighteen months, from winter 1933 to 1934.
Related