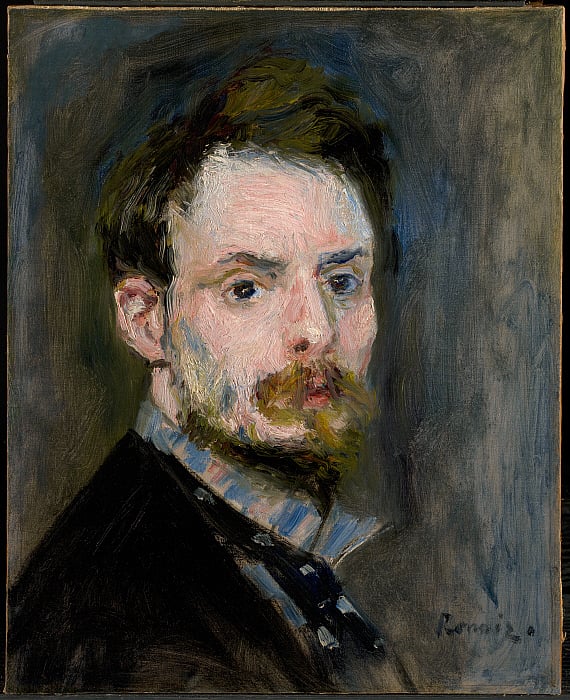 Pierre-Auguste Renoir
French, 1841–1919
Self-Portrait
c. 1875
When Renoir made this self-portrait in 1875, his paintings were bringing in little income. The artist presents himself with unkempt hair and beard, yet smartly dressed in a striped shirt and dark blue necktie. The textured paint—almost transparent in some places, thickly applied in others—suggests he was experimenting with technique. This work was shown at the second Impressionist exhibition in Paris in 1876 and eventually purchased by an important collector, Dr. Georges de Bellio, who Renoir claimed had "gone crazy" for it.
| | |
| --- | --- |
| Medium | Oil on canvas |
| Dimensions | 15 3/8 x 12 7/16 in. (39.1 x 31.6 cm) Frame: 22 1/2 x 19 13/16 x 2 3/8 in. (57.2 x 50.3 x 6 cm) |
| Object Number | 1955.584 |
| Acquisition | Acquired by Sterling and Francine Clark, 1939 |
| Status | On View |
Image Caption
Pierre-Auguste Renoir, Self-Portrait, c. 1875, Oil on canvas. The Clark Art Institute, 1955.584.
Bibliography
Lees, Sarah, ed. Nineteenth-Century European Paintings at the Sterling and Francine Clark Art Institute. Williamstown, MA: Sterling and Francine Clark Art Institute; New Haven and London: distributed by Yale University Press, 2012.
Provenance
The artist, to Chocquet (c. 1875); Victor Chocquet, Paris (c. 1875-76, sold to de Bellio); Georges de Bellio, Paris (1876-d. 1894); Victorine and Eugène Donop de Monchy, Paris, de Bellio's daughter and son-in-law, by descent (1894--1917, sold to Rosenberg, 4 June 1917);¹ [Paul Rosenberg, Paris, from 1917]; Henry Bernstein, Paris (by 1929-1939, sold to Durand-Ruel, New York, 14 Feb. 1939, as agent for Clark); Robert Sterling Clark (1939-1955); Sterling and Francine Clark Art Institute, 1955.

1. There is a handwritten receipt for this sale from Donop de Monchy to Rosenberg in the Rosenberg Archives. The Paul Rosenberg Archives, a gift of Elaine and Alexandre Rosenberg, I.C.6.a., The Museum of Modern Art Archives, New York.
Related