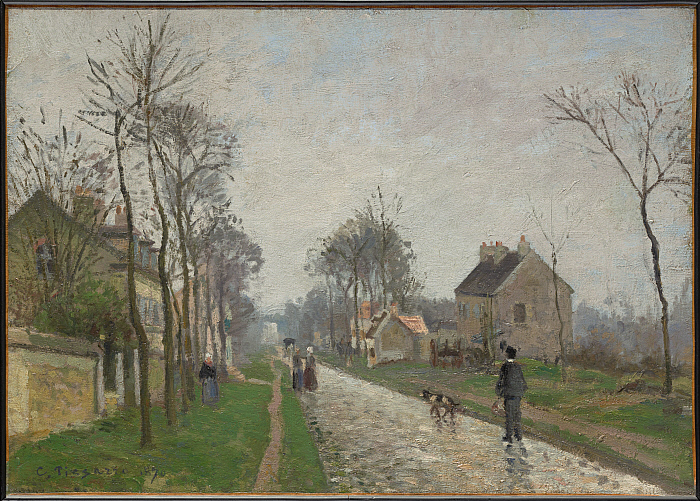 Camille Pissarro
French, 1830–1903
Route de Versailles, Louveciennes, Rain Effect
1870
Pissarro painted this road in the small town of Louveciennes several times during his two-year stay there. The unremarkable location provided a backdrop to explore varied atmospheric conditions, in this case a gray, wet day. With distinct, irregular brushstrokes, he recorded pedestrians, a distant carriage, leafless trees, and shining cobblestones in the weak light of a cloud-filled sky.
| | |
| --- | --- |
| Medium | oil on canvas |
| Dimensions | 15 3/4 x 22 1/8 in. (40 x 56.2 cm) Frame: 24 7/8 x 31 3/16 x 2 1/2 in. (63.2 x 79.2 x 6.4 cm) |
| Object Number | 1955.825 |
| Acquisition | Acquired by Sterling and Francine Clark before 1955 |
| Status | On View |
Image Caption
Camille Pissarro, Route de Versailles, Louveciennes, Rain Effect, 1870, oil on canvas. Clark Art Institute, 1955.825
Provenance
[Étienne Bignou, Paris, possibly by 1930, sold to Carstairs, Dec. 1940];¹ [Carroll Carstairs, New York, 1940-41, sold to Clark, 9 Jan. 1941, as "La Route"]; Robert Sterling Clark (1941–55); Sterling and Francine Clark Art Institute, 1955. 1. Sterling Clark, when he was considering the purchase of this painting, referred to it as the "Carstairs Pissarro which Bignou offered him [Carstairs]," indicating that Bignou owned it at the time. See RSC Diary, 18 Dec. 1940. Since Étienne Bignou was one of the organizers of the Paris 1930b exhibition, it is likely that the painting was in his possession by that date. Also note that Ludovic- Rodolphe Pissarro and Lionello Venturi, in their 1939 publication (vol. 1, p. 89), incorrectly stated that the painting was once owned by the Corporation Art Gallery, Glasgow. A letter of May 1966 to the Clark from the Glasgow Museums and Art Galleries confirms that they never owned or borrowed this work. See Clark curatorial file.
Related