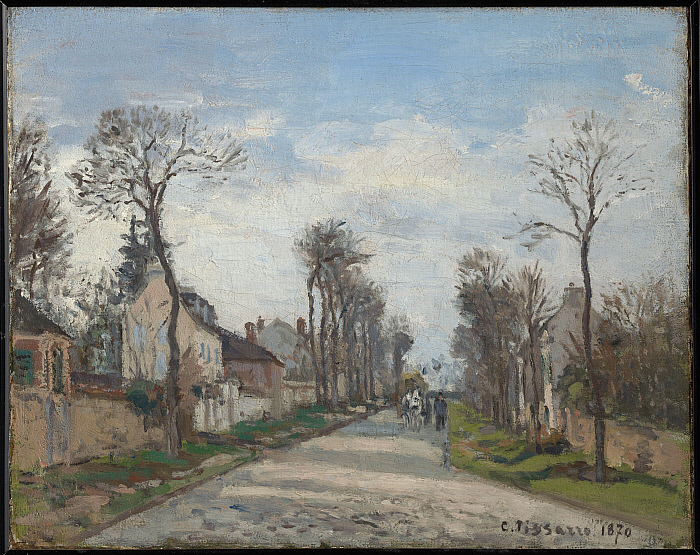 Camille Pissarro
French, 1830–1903
Route de Versailles, Louveciennes
1870
Clear spring sunshine casts alternating bands of light and shade along the road in front of Pissarro's house in Louveciennes, a town west of Paris. With its broad, simplified handling, the painting seems like a direct transcription of the view. Yet the two trees in the foreground frame the scene with improbable symmetry, suggesting that the artist modified what he observed to achieve a balanced composition.
| | |
| --- | --- |
| Medium | oil on canvas |
| Dimensions | 13 x 16 1/4 in. (33 x 41.3 cm) Frame: 19 7/8 x 23 x 2 3/8 in. (50.5 x 58.4 x 6 cm) |
| Object Number | 1955.828 |
| Acquisition | Acquired by Sterling and Francine Clark before 1955 |
| Status | Off View |
Image Caption
Camille Pissarro, Route de Versailles, Louveciennes, 1870, oil on canvas. Clark Art Institute, 1955.828
Provenance
Lucien Pissarro, the artist's son, London (1904–until at least 1938, probably sold to Rosenberg, c. 1940–41);¹ [Paul Rosenberg, New York, c. 1940–41, sold to Salz, 14 July 1941]; [Sam Salz, New York, sold to Durand-Ruel, 15 July 1941]; [Durand-Ruel, New York, sold to Clark, 26 Feb. 1942, as Route de Versailles]; Robert Sterling Clark (1942–55); Sterling and Francine Clark Art Institute, 1955. 1. In the Paul Rosenberg Archives, there is an undated letter from Lucien Pissarro to Paul Rosenberg, sent to 15 East 58th Street, New York (the Hotel Madison), an address Rosenberg used only from 1940–41. In it, Pissarro describes arrangements for shipping three paintings to Rosenberg from London, one of which is titled "La Route de Versailles à Louveciennes." Although no further documentation identifying this work was found, it may correspond to the Clark painting (The Paul Rosenberg Archives, a gift of Elaine and Alexandre Rosenberg, II.A.23. The Museum of Modern Art Archives, New York.
Related