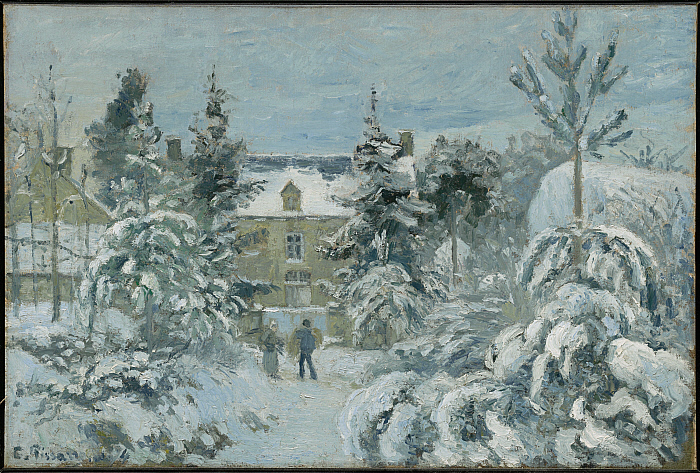 Camille Pissarro
French, 1830–1903
Piette's House at Montfoucault
1874
During the winter of 1874, Pissarro visited his friend and fellow artist Ludovic Piette at his farmhouse in the village of Montfoucault, southwest of Paris. This painting shows the house and surrounding gardens blanketed in deep snow. The artist used a limited range of colors and worked quickly in the cold, leaving the bare canvas visible in places between areas of thickly applied paint.
| | |
| --- | --- |
| Medium | oil on canvas |
| Dimensions | 18 1/4 x 27 in. (46.4 x 68.6 cm) Frame: 24 1/4 x 33 x 2 1/4 in. (61.6 x 83.8 x 5.7 cm) |
| Object Number | 1955.826 |
| Acquisition | Acquired by Sterling and Francine Clark before 1955 |
| Status | On View |
Image Caption
Camille Pissarro, Piette's House at Montfoucault, 1874, oil on canvas. Clark Art Institute, 1955.826
Provenance
Possibly Eugène Murer (Eugène-Auguste Meunier), Paris (d. 1906);¹ [Ambroise Vollard, Paris, until d. 1939];² [Étienne Bignou, Paris and New York, by March 1940]; [Sam Salz, Paris and New York, by May 1940, sold to Durand-Ruel, 4 March 1941];³ [Durand-Ruel, New York, sold to Clark, 6 March 1941]; Robert Sterling Clark (1941–55); Sterling and Francine Clark Art Institute, 1955. 1. Distel 1990, p. 212, states that Murer owned this painting. Paul Gachet, Deux Amis des Impressionistes: Le Docteur Gachet et Murer, 1956, p. 177, notes that Murer sold his collection in 1896 to a number of dealers, including selling ten paintings to Ambroise Vollard (two by van Gogh, six by Cézanne, and two unspecified). 2. After Vollard's death in July 1939, his collection was inherited by his brother Lucien and by Robert de Galea, the son of Vollard's mistress. Presumably either Lucien Vollard or Robert de Galea sold the painting before March 1940 to Étienne Bignou, whose gallery had branches in Paris and New York. It seems likely that Bignou purchased the painting in Paris and transferred it to New York for exhibition in March 1940. 3. According to a comment in RSC's diary, dated 1 February 1941, Sam Salz had acquired this painting "from Durand-Ruel's in Paris through a second party." Given that Bignou exhibited the work in New York in March 1940, this information appears to be inaccurate. Salz himself moved from Paris to New York in 1939.
Related