JuLY 12–december 13, 2020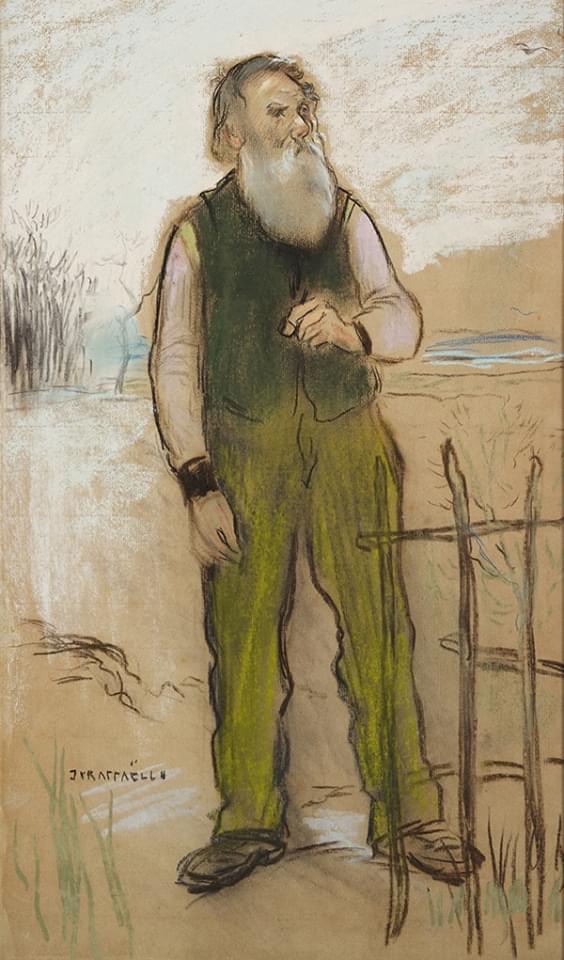 Jean-François Raffaëlli (French, 1850–1924), Man in the City's Outskirts (Bonhomme de Banlieue), c. 1885. Black chalk and pastel on paper, 24 1/2 x 14 1/2 in. Collection of Herbert and Carol Diamond
Nineteenth-century French figure drawings embody a conceptual tension between academic methods of drawing the human form and freer approaches that challenged those conventions. The curriculum of the state-sponsored École des Beaux-Arts (School of Fine Arts) in Paris and the esteemed Académie de France (French Academy) in Rome long considered drawings of the nude, studied and sketched live in the classroom, to be the ultimate measure of an artist's skill. Modeled after ancient Greek and Roman sculpture and Renaissance examples, the predominantly white and male figure centered in works exploring historical, mythological, and religious themes was a physique that was not reflective of the diversity of human bodies. By midcentury many French artists—including those who originally trained in academic studios—signaled their creative independence with portraits and genre scenes representing ordinary and working people in natural poses. This exhibition traces transformations in figure drawing during a period in which these developing interests in Realism and contemporary life diverged from the idealism championed by public institutions.

The works on view span the nineteenth century and reveal the varied uses of figure drawing. Detailed studies addressing a model's features and form commingle with swiftly drawn sketches that explore gesture and movement. Sheets bearing grid lines and handwritten annotations demonstrate the relationships between drawing and other media, including painting and printmaking. Many of these works illuminate the versatility of graphite, the primary instructional medium before the middle of the century. Compositions by artists associated with Realism, Impressionism, and other late nineteenth-century art currents evoke how the infusion of diverse media—chalk, charcoal, Conté crayon, and color pastel—often bolstered experimentation as artists increasingly depicted the people around them.

In celebration of the generous, ongoing gift of Herbert and Carol Diamond, this exhibition highlights works from the couple's remarkable collection of more than 160 French drawings and sculptures, which they have assembled since 1964. The Diamonds' particular fascination with the preparatory role of drawing broadens the Clark's presentation of nineteenth-century French art—the cornerstone of the museum's founding gift—and introduces works by artists not previously represented in the collection. Select figure studies from the Clark's collection, which has continued to expand, join this display in the spirit of inviting a new look.
Lines from Life: French Drawings from the Diamond Collection is organized by the Clark Art Institute and curated by Kristie Couser, curatorial assistant for works on paper.

Header image: Henri Lehmann (French, 1814–1882), Study of Anna for The Arrival of Sarah at the Home of Young Tobias, c. 1863, Conté crayon on paper, 11 9/16 x 8 7/8 in. Clark Art Institute, Gift of Herbert and Carol Diamond, 2018.11.10