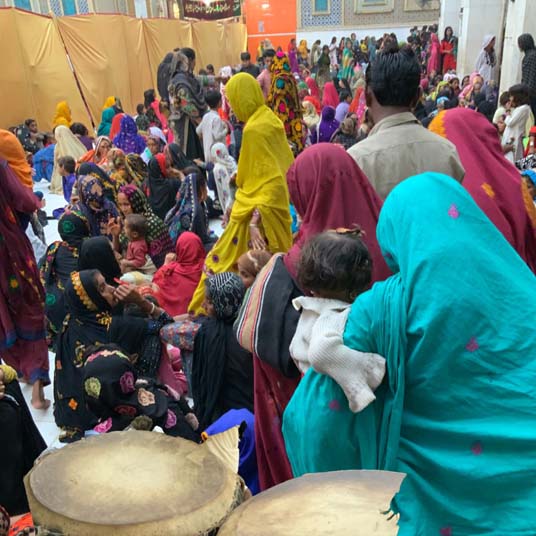 Sound, Space, and Gender in South Asian Sufi Shrines with Shundana Yusaf
April 18, 2023, 5:30–7:00 PM
In this Research and Academic Program lecture, Shundana Yusaf (University of Utah / The Kaleta A. Doolin Foundation Fellow) explores the dynamic exchange between listeners, sound, and space in the tomb of Lal Shabaz Marwandi. Located in Sehwan, Pakistan, the tomb of Lal Shahbaz Marwandi is the most cacophonous shrine in South Asia. Every night thousands of predominantly poor and orally educated supplicants gather in the courtyard outside the resonant dome to dance to deafening drums. Today, twice as many women participate as men. The deafening beat rings the listener's entire body. It tinkles her ears, pounds her heart, and pulsates the limbs and head. The thumping and ecstatic movement puts some women in a trance. Others faint and burst into tears. This presentation describes the role of the dance and drumming in the restructuring of the shrine as a feminist crossroad. The exchange between the bodies, air, and walls traps the listener into a relationship between sound and space, similar to the diachronic nature of all gift economies. The interdependency between the agency of sound, space, and women is not lost on anyone and therefore zealously renewed, night after night, for almost 750 years.
Presented in person in the Clark auditorium. This event is free with a reception in the Manton Research Center Reading Room starting at 5 pm. A recorded video of this lecture will be released on this page and the Clark's YouTube channel on April 25, and will be available to view until June 15, 2023.
Image: Participants gathered at the tomb of Lal Shabaz Marwandi in Sehwan, Pakistan. Photo by author.